'Final Fantasy 15' Food: Feast your eyes on amazing screenshots of Ignis's best recipes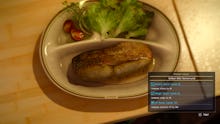 On paper, Final Fantasy 15 is about the melodramatic clashes of good and evil. But in practice, it seems much more interested in celebrating the myth of the great American road trip and making you feel like you're on a cross-country journey with your best friends.
A major part of that sense of intimacy comes into play when you set up camp at the end of a long day of adventuring and it's time to eat. As you explore the world of Eos, your teammate Ignis thinks up new recipes to cook. Provided you have the right ingredients, he can whip up a gourmet meal at a moment's notice.
Square Enix could have easily had you simply pick from a text-based list of dishes with various stat bonuses. But from sticky rice to beef stew, each and every dish is lovingly rendered and completely mouthwatering.
So, without further ado, here are some of the most delicious-looking dishes you can eat in Final Fantasy 15. Good luck keeping your appetite in check.
Final Fantasy 15 food screenshots
Unsurprisingly, players have been posting their favorite dishes online, almost like they were posting a picture of their own meals on Instagram. With food that looks this delicious, it's hard to blame them.
If all this absurdly delicious food has you hungry, check out this Tumblr post that has a full recipe for cooking Final Fantasy 15's beef stew. Yum.
More Final Fantasy 15 news, updates, tips and tricks
If you're ready to get your bromance on, you'll want to read up on all of Mic's Final Fantasy coverage, including a big list of tips and tricks, the juicy details on Noctis/Prompto fan art, a guide to fishing in Final Fantasy 15, a guide to changing your chocobo's color, a guide to finding a sturdy helixhorn, a guide to summoning, a review roundup from all the big gaming outlets, rumors about a PC release and Conan O'Brien's reaction to the game on his show.