A Muslim woman was attacked at an NYC subway stop — it was the third such attack in 1 week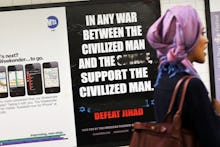 A 45-year-old Muslim woman was physically attacked at the Grand Central subway station in New York City on Monday morning.
Soha Salama, who works for the Metropolitan Transportation Authority, was commuting to work on the 7 train toward Grand Central Terminal when a man began verbally assaulting her. According to Fusion, the man reportedly called Salama — who wears a hijab — a "terrorist" and said she shouldn't be allowed to work in the city. He also told Salama, who has lived in NYC for 20 years, to "go back" to her country. 
But it didn't stop there. The alleged attacker — whom The New York Police Department described as a Hispanic man around five feet, ten inches tall — then followed Salama after she got off the train. Shortly after, he pushed her down the exit staircase, causing injuries to her knee and ankle. Salama was reportedly taken to the hospital for her injuries. The NYPD is currently investigating the incident with the cooperation of the MTA, State Police and the Division of Human Rights.
Gov. Andrew Cuomo voiced frustration over the incident and reaffirmed citizens that the city values diversity and tolerance of different cultures. 
"This is the great state of New York – we welcome people of all cultures, customs and creeds with open arms," Cuomo said in a statement released Monday. "We do not allow intolerance or fear to divide us because we know diversity is our strength and we are at our best when we stand united."
Salama's incident is the third such attack on Muslim women in NYC within the past seven days. 
On Saturday, NYPD officer Aml Elsokary was accosted by a 36-year-old man who threatened to cut her throat. Elsokary, a native New Yorker, was off-duty when Christopher Nelson began harassing and assaulting her 16-year-old son in the Bay Ridge neighborhood of Brooklyn. When Elsokary intervened, Nelson responded by calling her an "ISIS bitch," and then said "I will cut your throat!"
Mayor Bill de Blasio condemned the attack and praised Elsokary for her dedication to the NYPD.
"In 2014, she ran into a burning building and helped to save a young girl and her grandmother," de Blasio said in a press conference on Monday. "And then, on Saturday, she had to experience a man allegedly yelling at her and her son, 'Go back to your country.'
"Well this is Officer Elsokary's country," de Blasio added. "She is an American. She is a New Yorker. She's already at home."
On Dec. 1, according to CBS News, three men attacked 18-year-old Yasmine Seweid on the 6 train while she was commuting home following an event at Baruch College. 
Seweid, a native New Yorker and an American citizen, was listening to her headphones when the men surrounded her and ripped her bag away. When Seweid politely asked to be left alone, they retaliated by attempting to forcefully remove her hijab. They then verbally assaulted her with shouts of "Donald Trump" and repeatedly told the teenager that she didn't belong in the country.
"They kept saying, 'you don't belong here, get out of this country, go back to your country,' and finally they came really close and they were like, 'take that rag off your head,'" Seweid told CBS News.
According to the Seweid, no one on the train attempted to intervene or de-escalate the situation.
These three incidences of anti-Muslim are reflective of a 35% uptick in hate crimes throughout the city since Donald Trump's presidential election win on Nov. 8, according to city officials.
According to Albert Cahn, the director of strategic litigation at the New York chapter of the Council on American-Islamic Relations, the rate of hate crimes targeted toward Muslims is actually much higher than the percentage provided by the NYPD.
"We believe the increase is far higher than the official statistic, because there continues to be a pattern of these crimes being underreported systematically," Cahn told Mic in a phone interview. "There's a given historic antagonistic relationship between the NYPD and Muslims where many in the community are afraid to call 911 or report a crime. Additionally, the police don't always designate an anti-Muslim hate crime as a hate crime when there's evidence that clearly shows it."
Cahn added that Muslims have to face numerous barriers when reporting hate crimes, including a multifaceted, three-step review process and constantly being scrutinized under the lens of national security and counterterrorism from law enforcement agencies. 
"While we have seen an increase in reports sent to us and to officials, we believe there's a number of people suffering in silence [as] victims of hate crimes and not reporting it," Cahn said, explaining the complexity in getting an accurate statistic of hate crimes targeted towards the New York Muslim community. 
Of these three separate cases, the NYPD has so far only identified and arrested one man. Christopher Nelson was charged with menacing of a hate crime and aggravated hate crime for attacking Elsokary and her son. According to NYPD Detective Kelly Ort, Seweid has not filed a report with the police, and Salama's attacker has not yet been identified or apprehended.