What is microdosing? The hottest new marijuana trend, explained.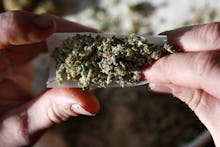 Marijuana continues to expand out of the basement and into the mainstream with its recent legalization in California, Massachusetts and Nevada. Now entrepreneurs and enthusiasts alike are beginning to invest in what Business Insider calls "the future of marijuana" — microdosing. 
Microdosing is, as you might have guessed, the consumption of marijuana in very small and measured amounts. The idea is to achieve an perfect balance of THC levels without any of the anxiety commonly associated with the drug. In theory, marijuana users who are microdosing can go about their day without the social taboo of being noticeably high. 
So how does microdosing work? 
Similar to the technique used with LSD and psychedelic mushrooms, marijuana microdoses are primarily ingested. Edibles offer the most accurate method for measuring THC amounts. Companies like Kiva Confections infuse varying milligram doses of THC into food items like mints and chocolate bars. A typical microdose starts at around 5 to 10 milligrams of THC in a recipe.
Marijuana microdosing has yet to take off on a national level — a significant number of states still outlaw recreational marijuana use — but it isn't just some stoner obsession. In fact, it's designed to be the exact opposite. Kristi Knoblich, Kiva's chief operating officer and cofounder, told Business Insider that their product is intended for the "more casual edible consumer."
"It's that person looking for a glass of wine or beer in the evening [type] experience," she added. "We're looking for that person who isn't looking to get blasted."
For a guide on how to properly consume marijuana edibles, check out this explainer by High Times.