Get Out There: The importance of traveling the world after this election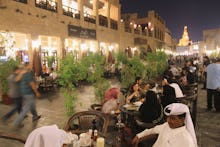 This article is part of the Mic series "Enabling Empathy Through Travel." See the previous post here.
As awe-inspiring as pictures of the monuments, cityscapes and mountain views look on Instagram, the real importance of international travel lies in the self-awakening it can inspire. Either all at once or gradually, international experiences force you to confront realities you might not notice by staying at home. It simultaneously heightens awareness of differences and of common ground. It causes us to compare and reflect. It unconsciously reappears in analysis weeks, months and years later. And it's more important now than ever before.
I started an international travel company at 23 with no previous experience and a nonplussed attitude towards travel. The long flights, stress of airports and anxiety of unknown tastes, smells and languages suppressed my curiosity and sense of adventure. The need for a job following the 2009 financial crisis was what pushed me to start my first company, rather than an overwhelming passion.
Flash forward to the 2016 U.S. presidential election. On the day of the election, I was in Guangzhou, China. After six months working on a clothing company as a side project, it was time to visit the manufacturer in China and work out the details of our first bulk order. My meeting  was scheduled for 11 a.m. local time, twelve hours ahead of the East Coast.
I refreshed my phone before I left my hotel at 10 a.m. States on the East Coast were starting to be called by news stations. I was out of contact for the next hour as I sat in the back of a taxi. Being in China for only four days during this trip, I had opted not to buy a SIM card — I would rely on Wi-Fi.
Guangzhou was not the city that I expected before I arrived. It was modern, clean and relatively quiet compared to other cities in China that I had visited. I enjoy long car and bus rides in other countries. Being a natural introvert, it gives me time to reflect on the city scenery and to imagine the lives of people inside the apartment buildings that I pass.
Once I arrived at my meeting, I met my sales rep and the floor manager. We sat in a conference room crowded with racks of clothing samples, sipped on tea from the manager's personal stash, and began our discussions, as a promo video that would fit in perfectly in the early 1990s looped in the background. I asked for the Wi-Fi password to assure myself that the so-called Clinton electoral firewall held up.
I had joked with friends that I might not come back from China if Donald Trump was elected president of the United States of America. Maybe I could claim political refuge in the People's Republic. My tongue-in-cheek threat calmed my nerves and silently assured me that the worst could not happen.
Of course, it did.
Denial, anger, bargaining and depression engrossed my flight back to the United States; acceptance seemed in the far distance.
After partaking in the collective panic and thinking through exactly how a Trump administration could quash my business, I found myself, two weeks later, in Budapest, more resolved than ever on the importance of international travel.
Embracing the uncomfortable
I used to think of comfort as being on the same scale as good to bad. The more comfortable I found myself, the better that situation was. Conversely, any feeling of discomfort must be a negative encounter, right?
Whenever abroad, you're bound to find yourself in at least one awkward or uneasy moment. For me, these situations used to be nerve-wracking — I could feel myself start to sweat, my hearing would become ultra-fine and my eyes would shift rapidly trying to absorb any small piece of information that I could find.
Much of that still happens, but I've come to enjoy it.
Trying to navigate a subway in a foreign language, getting lost while walking around the city, getting locked in or out of buildings, figuring out how to buy tickets or make reservations — all of which I find myself doing when I travel now — are as much a part of the travel experience as taking Instagram selfies.
Learning to embrace the uncomfortable has done more than make my travels more enjoyable — it also reminds me that awkwardness connects us. We smile and laugh at these stories because they strike a familiar chord.
The "local" experience
Sure, everyone says they want the local experience. You hear it all the time from your friends, on social media and in articles like this one. But I question why there's such a demand to act like a local and what the "local experience" even means.
A friend of mine has traveled with me multiple times internationally. Although we sometimes have conflicting style of travel — I prefer a mapped-out plan, she is driven more by impulse — we travel well together and end up complimenting each other's styles. Using public transit is a must for her, and it used to give me fits. Eventually she convinced me, and now I make sure to use buses, subways and trams often when I'm abroad.
You really want the local experience? Hop on a bus downtown, it doesn't matter the city, and get off at a stop and watch which bars, restaurants and shops people enter. No need to scour blogs for local recommendations  — just watch and see what's popular.
I can't answer why so many of us crave the local scene, but I can hope that it's because we look for ourselves when we travel. If we were born in another city, in another country, on another continent, what would our lives look like? Speaking only for myself, these questions are innate, perplexing and often unanswerable.
More importantly, the quest to answer those mysteries places my mind in someone else's reality.
Comparing culture and historic context
Every November I visit Budapest with a group of U.S. high school students. We go to participate in a government simulation of the European Union. The goal is to explore the responses by national governments to an EU-wide disaster — energy shortages, climate change, refugee flows and the like.
Nestled a block away from the hotel sits one of the most incredible museums that I have ever visited — the House of Terror Museum, reconstructed on the site of the Nazi party headquarters and later the headquarters of the Hungarian secret police in Budapest. The horrors held within the walls of this building combine with masterfully constructed exhibits and videos that bring out a sense of dread, constriction and longing for reconciliation.
The legacy of forced labor, mass deportation, closed borders, racial hatred, government control, fascism, misogyny and brutality play out in front of visitors as they walk the corridors. A chilling reminder of the not-so-distant past bursts into the present when my students realize the responses that they have been crafting during the conference parallel those of past regimes. When we fail to consider context, we more easily fall into the same patterns than we realize.
Foreign lessons are no less important than our own, and paying homage to past experiences of other countries provides the historical context necessary to make political and economic decisions in today's world. And while reading articles and looking at pictures can make momentary impressions, walking through the brick and mortar walls of a building of death leaves permanent marks.
Representing your home
It is also more important now than ever for U.S. citizens to travel internationally because the world needs to see us. People living in France and Russia, in China and India, in Brazil and Mexico need to meet us, ask us questions and find out who we are.
Just like the residents of any country, it is easy for everyone living in the United States to become a caricature. We have an increased responsibility to blow up these misconceptions by learning new languages, admiring foreign art, asking questions, learning subway maps and meeting people.
Be yourself, be respectful and make it complicated to pigeonhole your home. Remember, no matter who you may be, you represent us all.
So be kind. Eat well. Meet others. And have fun.
There is so little you can do wrong when you have your priorities figured out. And there's no better place to do that than sitting in a city plaza, sipping tea, and listening to a local artist in another country.
About the author: Frank Pobutkiewicz is the founder of the All-American Model United Nations Programs and of Whiteboard Youth Ventures, both high school education companies. A serial entrepreneur focusing on rapid market validation, his interests include travel, startups, education and politics. He holds degrees in business and international relations from Boston University. He is a contributor to Mic and to Keteka.