17 gift ideas for your boyfriend he'll definitely use (and for under $100 each)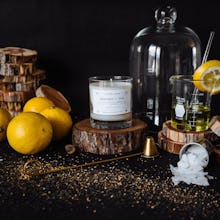 As far as your boyfriend goes, we've found the best rule of thumb is getting him something he'll definitely use, but wouldn't necessarily ever want to buy for himself. (See the valet below – he definitely needs a swanky spot on the bookshelf to put his keys, but a $45 leather basket might seem too expensive to justify buying for himself. See what we mean?). Bottom line: if it's a nice gift that will keep on giving, why not be the one to give it to him yourself?
Whether your dude drinks, builds things or likes to shave, or needs to take better care of his skin, we've got all the best gifts for the man-love of your life right here:
Editor's note: Prices and product availability are subject to change throughout the holidays.
A shoe freshener
How many times have you told your boyfriend that his Stan Smith's have seen better days? Get him this handy sneaker cleaning kit from Men's Society ($19), which has everything he needs to buff them up. While you're there (and because they're not too expensive), you can pick him up some of their other kits — which range from survival kits for music festivals, hangover emergencies or gym necessities — and you'll have filled his stocking with stuff he'll actually use.
Candles with an afterlife
OK — your boyfriend might not be a candle man, but you know his place needs them, especially in the vicinity of his laundry or the bathroom, and he probably doesn't remember how much fun it is to set something on fire and marvel at that little flame flickering on his coffee table.
The candles from Manready Mercantile, in flavors that range from bergamot/teak ($28, pictured above) to cedar/sage and lemon/verbena, are modestly priced and subtly, masculinely fragrant. Even better, the glass doubles as a whiskey tumbler once the candle runs out.
A supremely handy subscription box
Every month, The Handy Box sends out a selection of tools that the average guy probably wouldn't have, but surely needs on hand. Previous boxes have included a tool belt with a hammer, LED flashlight and multi-stand; a wrench set with bungee cords; a plier collection and a folding camp shovel. You get the picture. And a three-month subscription costs $83.85, which means he'll be set for a while.
Or one for "guys who give a damn"
While we're on the subject of subscription boxes, Bespoke Post is also highly useful. Take, for example, the Churchill kit, with everything you need to pretend you're living that Winston Churchill life, including the cigars. Or the Refresh box, with a dopp kit filled with shampoo, hair clay, bar soap and toothpaste. It's free to join the club — they send out an email each month with whatever box you're assigned. There's no obligation to buy, but each box costs $45 (but they claim the stuff therein is worth $70), and shipping/exchanges are free. Even better, you can buy previous boxes separately if that's your jam.
An instant bar upgrade
The perfect gift for a guy who still thinks that a Jack and Coke is the best drink ever. Show him what's up with this sampler pack of bitters from the Hella Cocktail Company ($34.95). It includes flavors like smoked chili, citrus, aromatic, orange and ginger. Just a few drops will take any glass of whiskey to a whole new level. Jack Daniels be damned.
A classic board
Penny Skateboards, like its Paradise 27-incher ($97.99), are plastic, flexible and smooth. The waffle top is as equally classic as it is nonstick, and with so many designs, we're sure you can find one to match your boyfriend exactly.
Your boyfriend will look cute on it and you can take aspirational photos of him being pulled by your neighbor's dog down the beach walk ... or something. Whatever, it's for the 'gram!
Fancy coffee
For about $12 to $13 per shipment, you can give the gift of coffee and have it mailed to him monthly — or weekly, if he goes through beans that often. Through Blue Bottle Coffee's customizable gift subscription service, you can set him (or yourself) up for premium coffee delivered straight to his door on a recurring basis. 
A place to put his "every day carry"
We could all use a designated spot to leave keys, phone, wallet — the every day carry — and a handmade leather valet is a option. To make it really snazzy, you can get it engraved with his initials or your anniversary date. Aww, so sentimental.  This one here from Etsy shop W Leather Company ($42.99) is a real winner. 
A secret ingredient
If your boyfriend loves to cook, consider a recipe journal, such as the one from Moleskin here ($22.95). It's a great way to help him keep all of his time-tested recipes, notes and hacks around for easy reference. 
To get him started, why not print out some recipes you've been pining after and point him in the direction to find out what you're craving for dinner? You're welcome.
A super photo gadget
If your boyfriend is your Instagram husband, show him you appreciate all his hard work by upgrading his phone game with the Iris lens kit from Photojojo ($69). It includes wide-angle, fisheye and macro lenses, and works with virtually any iPhone case, whether he uses a slim wallet case (see below) or a chunky waterproof thing.
An extremely efficient way to carry everything he needs
This slim wallet case from Bellroy ($89.95) fits an iPhone, up to five cards (or four cards and cash), a SIM card and key, all in a super slim, leather-wrapped weather resistant silhouette. He'll never forget his Metrocard again.
A fancy way to open his mail
Every guy needs a good pocket knife, maybe not as much for wilderness purposes as for opening Amazon boxes, but still, a pocket knife will always come in handy. We especially like the German Locking Knife ($72) from Best Made Company for its brass lever which keeps the blade locked in place but easily unlatches it for safe keeping.
A grooming can
The Duke Cannon Handsome Man Grooming Can ($75) is a kit with most of what a guy needs to groom his best self: Duke Cannon shaving cream, face wash, hand and lip balm and bars of soap. Plus, the can itself can be used to store coin, tools or whatever else a catch-all carries.
And a razor, obviously
The Super Close Shave Kit from Baxter of California ($60) comes with a straight edge razor and its "Super Close Shave" formula shaving cream, a sweetly subtle way to tell him that the beard phase is over, sir.
A truly all-you-need bluetooth speaker
The sound quality is reeeeeeeeal good with this waterproof bluetooth speaker from House of Marley (like, better than most others that we've tried in similar size and price brackets). The Chant Sport's ($99) battery life is stellar — about 8 hours — and we can't recommend it enough. It works just as well in the garage as it does in the shower, and you can take it to the beach or outdoor barbecue, rain or shine. 
Travel goals
Decorate his place with this Scratch Map ($40) which helps you keep track of where you're going and where you want to go — the countries scratch off with a coin. And then, obviously, travel with him.
A coffee table book with a subtle hint
Written by famed Boston oyster chef Jeremy Sewall and producer Marion Lynn Swaybill, "Oysters: A Celebration In The Raw" ($24.95) provides portraits of more than 50 oyster varietals, and is at once a primer on oysters while simultaneously showing the industry at large. 
If oysters are an aphrodisiac, let this beautiful book speak volumes.
This month, Mic Essentials brings you handpicked deals, reviews, recommendations and gift ideas. For more ideas, see our lists for the best men's grooming products, awesome gifts for the badass feminist in your life and perfect products for the skincare obsessed. If you buy something through a link on this page, Mic may earn a small commission.