The 13 best gift ideas ideas for couples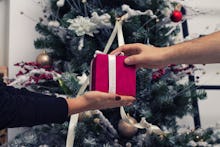 Whether a couple is spending their first holiday together or they've been married for years, finding the right gift that celebrates both their love and their shared interests is no easy feat. You want a gift that's not too formal, not too stuffy and sure to make them smile.
That's where we come in. We've combed through hundreds of products to come up with the most original and creative gift ideas. Ditch those cheesy "Our First Christmas" ornaments and monogrammed bath towels. Instead, get those two turtle doves something they'll actually enjoy, like a set of handsome copper mugs or a custom viewfinder with their photos inside.
So whether you're trying to find a gift that you and your significant other can enjoy together or you're simply looking to delight your favorite couple with a special present, our list is sure to help. With gifts ranging from $5 to $500, we've got a selection that will work for any budget. Browse the best in wine, art, music, photography and books until you find the item that's just right.
Of course you don't have to be taken to treat yourself to the gifts on this list. If you see something you want for yourself, just slip it under the tree. We'll never tell.
(Editor's note: Prices and product availability are subject to change throughout the holidays.)
Date Night In: More than 120 Recipes to Nourish Your Relationship: $17
It's time to put some flavor back into your relationship, both literally and metaphorically. The cookbook, written by Ashley Rodriguez, a wife and mom who was no longer content to spend date night eating takeout, makes cooking as a couple a delightful experience. The New York Times calls the menus in the cookbook "simple, inventive and easily assembled." Explore new cuisines and try new techniques while making perfectly portioned meals that will leave you satisfied every time. 
Know a couple that's been bitten by the travel bug? Help them keep track of all their getaways and excursions with this world map. Scratch off the gorgeous gold foil covering to reveal each country's unique color. This map is a fun way to remember trips and see just how much of the world is left to explore.
Date Night Bucket List: $18
At one point or another, every couple runs out of creative steam when it comes to fun ideas for date night. Put some excitement back into your time together with this fun bucket list that features 25 sticks inscribed with prompts or suggestions for date night like visiting a new museum or going star gazing together. 
Monogrammed leather catchall tray: $45
Everyone has a place where they park their keys, wallet and spare change when they come home at the end of the day. Add some organization and style to that mess with this leather catchall tray. Make it even more special for by adding a monogram inside.
Audio-Technica AT-LP120-USB: $249
Commitment can be a scary thing, and no, we're not talking about putting a ring on it. If you're adult enough to be in a long-term relationship, you're adult enough to stop blasting Spotify off your laptop and graduate to a more refined musical experience. The Wirecutter named this the best turntable for casual listening, saying it's a "great entry point for the vinyl enthusiast and shines even when matched against a table costing twice as much." 
Custom 3-D photo set: $29
Framing prints is so passé. Instead, showcase special moments in a relationship with this RetroViewer from Image3D. Couples will be delighted to click through the custom reel of their photos and marvel at each memory in stunning 3-D detail. For $29 you can get a gift set that features a reel with seven photos, a viewer and a beautiful white box to store it all.
Soothe couple's massage: $198 to $338
Nothing is better than the gift of relaxation. Thanks to the Soothe app, couples can order a massage session on the go or schedule an appointment in advance with only a few taps of their screen. With massage therapists in over 48 cities throughout the United States and Canada, on-demand relaxation has never been easier. "It's even better than a traditional in-spa massage," according to People. Give your favorite couple a gift card for a 60-, 90- or 120-minute treatment and let them pick the time and place that is convenient for them. 
Original Scent personalized candle: $48
Want to remember the salty spray of the waves during your vacation to Hawaii or the fragrance of the roses that day you spent picnicking at your favorite park? Original Scent will help you build a personalized candle that will transport any couple back to their favorite memories together. Choose from 12 distinct scents and customize the label and packaging with its easy-to-use website.
Love Is Art Intimate art kit: $60 to $79
Forgot those lame paint parties where you sip watery chardonnay and try to recreate Vincent Van Gogh's "The Starry Night." Instead, throw back a stiff cocktail, rip each other's clothes off and make a work of art using just your naked bodies. This art kit provides couples with all the supplies they need to spend an evening writhing around in ecstasy, memorializing their raw passion on canvas.
Things You Must Do to Make Me Happy pad: $5
Tired of constant bickering and nagging? This hilarious note pad will help any couple cut to the root of the issue and communicate clearly. Featuring 196 unique requests including "divorce your parents" and "hit the snooze button," filling out one of these sheets will ensure that partners always know the way to each other's hearts.  
His and His wooden coaster set: $10
Skip the campy rainbow gifts when shopping for the same-sex couple on your list this holiday season and go straight for something distinguished, like these engraved birch coasters. The shop sells a hers and hers set as well. 
Set of 2 Copper Moscow Mule mugs: $70
No Moscow Mule is complete without a strong, sturdy copper mug. Up your favorite couple's entertaining game by gifting them with this set of Sertodo mugs. Made from pure copper that is 100% recycled, these bad boys are the real deal and will last for generations to come. 
When in doubt, give the gift of alcohol. Any couple would be delighted to receive a Winc gift card, which can be redeemed for a gift basket or put toward the cost of the monthly membership program. The Observer reviewed Winc's unique selection of wine, calling them "fun and surprising and above all, delicious." 
Mic Essentials brings you handpicked deals, reviews, recommendations and gift ideas. If you buy something through a link on this page, Mic may earn a small commission.