Netflix paired these TV and movie titles together for the best binge watching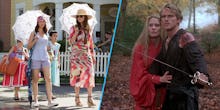 A binge watch can be a daunting task. After hours and hours of the same characters, storylines and settings, it's natural to want a change of pace before diving into another world. But what can a Netflix user watch instead?
According to a new study from Netflix, more than 30 million users follow up a binge watch with a movie. The streaming service collected a few particularly popular pairs — and the results make a ton of sense.
"After finishing a series, a majority of Netflix members (59%) take a pause, usually lasting three days, before committing to a new show," Netflix stated in a press release about the study, which saw 86 million users' behavior observed over a 10-month period. "During that break, more than half (61%) watch a movie to keep the binge feeling alive."
For example, viewers who wrap up Orange Is the New Black are likely to move onto The Big Short — both comedic dramas with crime as a thematic element. Unbreakable Kimmy Schmidt and Gilmore Girls fans both enjoy Sixteen Candles and The Princess Bride as cappers to their binges, while those who wrap up Stranger Things often move on to Zootopia.
This might come as a surprise, considering Netflix's movie library is dwindling as they order more original TV series. But according to Netflix's chief content officer Ted Sarandos, the two forms go hand in hand.
"It's interesting that in this golden age of television, movies are consistently in demand on Netflix," Sarandos said in Netflix's statement. "What we've come to figure out is that movies are really an important part of people's viewing routines and complementary to the way they watch and enjoy TV."
So if you're finishing up that binge of Bloodline and feel like you need a breather, take heart: Tons of other users are about to turn on Spotlight, too.