'Ink Master' season 8 finalist Gian Karle Cruz teases his 24-hour chest piece drama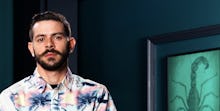 Nothing is ever easy — especially with $100,000 on the line.
Season eight of Spike's Ink Master comes to a close Tuesday night, naming a new winner in the competition series. Three contestants remain — Gian Karle Cruz, Ryan Ashley Malarkey and Kelly Doty — but only one can walk away with the grand prize.
Gian, Ryan and Kelly beat out 15 other tattoo artists to make it to the top three, and will have to impress judges Dave Navarro, Oliver Peck and Chris Nunez one last time during the live finale. The finalists will be showing off a 24-hour chest piece, a tattoo that Gian struggled to complete.
A sneak peek for the season eight finale revealed that Gian hit a snag while trying to complete the watercolor chest piece he was assigned. The tattoo artist, who is from Puerto Rico, and worked on his 24-hour chest piece on the Caribbean island, revealed to Mic that he had to deal with a 48-hour blackout.
Gian revealed that his human canvas was flown out to Puerto Rico, but when he arrived the lights went out.
"It was 48 hours with no electricity on the whole island of Puerto Rico," Gian said. "When we did get the power going, it was fluctuating. It was really tough. It was nuts, and thank god everything went well."
The power outage wasn't the only stressful thing on Gian's plate. Although he managed to stay out of the bottom the entire season, he still struggled with watercolor tattoos. After Kelly Doty and her coach, Chris Nunez, assigned him a watercolor piece for his final tattoo, Gian decided to take a couple of watercolor classes to aid him.
"I did my homework and I think I got a really strong piece for the finale," Gian said.
The watercolor chest piece isn't the only tattoo that the contestant is going to be judged on during the finale. Gian, Kelly and Ryan will be on-stage doing a 7-hour tattoo live. While the 24-hour chest piece style was assigned to the contestants, fans got to vote for what style they wanted to see done in the 7-hour piece. Gian told Mic that he was hoping to get Japanese.
"The girls are awesome tattoo artists but they're afraid of doing Japanese," Gian said. "They're afraid to do a bunch of things, like traditional ... [at the] beginning of the show Oliver and Chris Nunez said it, if you can't do traditional and you can't do Japanese, you can't be an Ink Master. None of them have proven that they can do either of those. They cannot do Japanese. They cannot do traditional. I can do both, so I think I can win this."
Check out Gian's tattoos during the live Ink Master finale airing Tuesday, Dec. 6 at 10 p.m. Eastern.