These are the 15 top companies with happy employees for 2017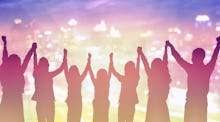 Life
By
Anna Bahney and Natasha Noman
Happy employees make companies thrive: Maybe it's the work-life balance. Maybe it's the pay. Maybe it's a respectful environment (call us picky). 
What does your happy place look like? For some, it might be the cool corporate slick of global management consulting firm Bain and Company. For others, a laid-back Silicon Valley vibe at Facebook might be more fitting. And yet others might want something totally different.
These and other employers ranked high on job site Glassdoor's annual "best places to work" survey for 2017.
Glassdoor pulled together voluntary, anonymous reviews of companies —written by current and former employees between November 2015 and October 2016 — and calculated which 50 companies had the happiest workers based on a 1 to 5 star "employee's choice" rating.
In the ranking of large companies, with 1,000 employees or more, the organization had to have at least 75 employee reviews to be eligible. 
Employees were asked to rank workplaces on five factors: career opportunities, compensation and benefits, culture and values, senior management and work/life balance. Glassdoor also looked at the percentage of employees who would recommend the employer to a friend. 
The top 15 large companies include startups and companies more than 100 years old; they operate in old-school industries, like pet food, household cleaners and construction, and newer ones, including business software, social media and cloud applications. 
What they all have in common is their employees' self-reported satisfaction with pay, benefits, vacation, retirement, perks — like dog-friendly offices — and (at least for some) work-life balance.
Here are the top 15, plus average salaries for three different positions at each company, to give you a sense of their pay range.
2017 Employee's Choice Rating: 4.3
Business software giant SAP, based in Newtown Square, Pennsylvania, helps people and organizations work together more efficiently with technology.
The company's CEO, Bill McDermott, gets high marks from employees on Glassdoor, 96% of whom say they approve of his work. Employees report that the company understands that modern workers need more than good pay and health care: They need flexibility.
"SAP is very in-touch with the reality of today's workforce," wrote an applications consultant in Chicago. "Many employees have a variety of needs — SAP helps connect employees to those needs. Based on my assignment, I have the privilege to work from home — and can move anywhere in the world that I choose. I also have benefits that meet my family's needs." 
An account manager in Chicago wrote, "A lot of career growth opportunities and the ability to move into new roles and new groups. A company that truly values its employees and treats them well. Great benefits."  
2017 Employees' Choice Rating: 4.3
Paylocity, located outside Chicago in Arlington Heights, Illinois, provides cloud-based payroll and human capital management software products for medium-sized organizations.
Employees are big fans of CEO Steve Beauchamp, with 99% of employees on Glassdoor approving of his work. Employees report that this is a company in growth mode, with the feel of a startup. Some downsides are the disorganization that comes with growth.
An ACA product support specialist in Arlington Heights, Illinois, wrote, "Paylocity values employees and creates a culture that allows employees to be happy and comfortable at work. Paylocity still feels like a small business even with rapid growth. Fun and upbeat place to work." 
2017 Employees' Choice Rating: 4.3
Brand manager: $120,277
This St. Louis-based pet food company was established in 1894 and still works hard to earn the trust of its customers, according to its workers.
Employees report that the company improved and expanded its maternity leave policy this year, offering three weeks of paid leave and three weeks of unpaid leave. A long-standing pension plan is no longer available to new hires, but the 401(k), health and vacation benefits are solid, workers say.
And there are other benefits: "Employees are allowed to bring their dogs to work, so that's a great perk!" wrote an employee in St. Louis.
An assistant brand manager in St. Louis wrote, "Competitive salaries, encouraged work-life balance, professional development and a great culture that makes 'big' feel personal and family friendly." 
2017 Employees' Choice Rating: 4.3
Clorox, the global company that sells household products, including its namesake bleach, is praised by its employees for having a good culture.
Clorox has "comfortable blend of career growth and work-life balance," according to a group manager in Pleasanton, California. The company's CEO, Benno Dorer gets a 98% approval rating from employees on Glassdoor.
Benefits are a big perk: "401(k) matching, financial planning advisers, good medical coverage contribution, health guidance and support, flexible work hours, charitable donation matching, health club discounts, flexible spending accounts for medical and child care, vacation and personal time off," wrote an associate research fellow in Pleasanton.
An F&A manager in Pleasanton, California, wrote, "Great learn and grow culture with emphasis on work-life balance. The people are great and foster a mentoring environment."
2017 Employees' Choice Rating: 4.3
Management consultant associate: $162,089
The massive consulting enterprise, which works for both public and private companies, governments, nonprofits and nongovernmental organizations, returns to the list after an absence last year, very near to the ninth spot it held in 2015.
The company earns big points from its employees for its health care offerings. "Ridiculously good," wrote an associate partner in New York. "Had a baby at the best hospital in the city with a big private room and I don't think I paid anything."
An associate in Chicago wrote, "Smartest people, best projects, truly incredible internal support staff. McKinsey is defined by a set of values, not a book of rules."  
2017 Employees' Choice Rating: 4.3
Power Home Remodeling is a maintenance and construction company that provides energy-saving home systems and remodels. While the company offers standard benefits — 401(k), health insurance, dental — the company earns its employees' favor with team-building activities.
"Where they stand apart from the others is with all the events they have for their employees," wrote an employee in Chester, Pennsylvania. "Just to scrape the surface, there are annual trips to Cancun, open bar events, fundraising opportunity and more!" 
Although the company is part of the traditional building trade, it is very attractive to millennials, and was named the best place for millennials to work by Fortune magazine last year.
CEOs Asher Raphael and Corey Schiller are both in their 30s, and 84% of the staff are millennials with an average age of 29, according to Fortune.
A marketing manager in Iselin, New Jersey, wrote, "The career growth opportunity is outstanding. Everyone in the office genuinely cares about each other and wants to see you be successful."
2017 Employees' Choice Rating: 4.3
Computer scientist: $119,705
This digital media and marketing firm has moved up from No. 19 in last year's rankings.
The company, which holds as its goal to make, manage, measure and monetize content across platforms, is led by Shantanu Narayen, who gets a 96% approval rating from Adobe employees on Glassdoor.
Employees enjoy a generous family leave plan that offers up to six months of paid leave, according to employees' reports. "One of the best maternity / paternity plans given U.S. standards," wrote an IT Manager in San Jose, California. "Not quite up to European standards, but way above others in the industry stateside." 
Employees report that there are two shutdowns a year, for one week in the summer and two weeks in the winter. Beyond that, employees report, you can take vacation whenever it is approved, but you may be asked to work while you're away.
An order management employee in Lehi, Utah, wrote, "Great company culture, benefits and overall atmosphere to work. People are very open, knowledgeable and potential for advancement is very much available."
2017 Employees' Choice Rating: 4.4
The professional's Facebook, LinkedIn is a social networking site based in Mountain View, California.
CEO Jeff Weiner is well-liked: 97% of the employees on Glassdoor approve. Employees say they like the 401(k) match — up to 100% of the allowable amount by the Internal Revenue Service — so that if a worker puts in $9,000, they'll actually end up with $18,000, the annual IRS maximum. 
Workers are also satisfied with LinkedIn's family leave policy, reported to be six weeks of paid leave followed by an option for six weeks of unpaid leave.
"Woman get a phenomenal maternity leave as well as men get paternity leave," wrote an account executive in Chicago. "This is a company dedicated to keeping employees happy and healthy and that includes family planning."
A product marketing manager in Mountain View, California, wrote: "They truly invest in the professional development of employees. Very proactive at making sure that you're in a role you want to be in. Their benefits are fantastic." 
2017 Employees' Choice Rating: 4.4
In-N-Out associate: $12.00/hour
It does what it says on the label: In-N-Out Burger makes all their burgers in-house and does not allow franchises.
The family-owned company, based largely in California, was started in 1948 and "famously does not use microwaves, heat lamps, or freezers." 
Ninety-two percent of employees said they would recommend working there to a friend. CEO Lynsi Snyder has a 95% approval rating from employees and was ranked the 17th best CEO on Glassdoor in 2016. 
Some cons to working at the company? Try an "extremely fast-paced" work environment, which can get "stressful," according to reviewers.
But overall, employee reviews were almost as good as their burgers'.
An employee in Stockton wrote, "Always busy. Time flies. With hard work you move up pretty quickly. Everyone is so nice and friendly. Great positive atmosphere."
2017 Employees' Choice Rating: 4.4
Implementation consultant: $86,195
Fast Enterprises plays in the big leagues when it comes to "development and installation of software for government agencies."
The company introduced GenTax, a software which processes all the different and relevant taxes in one system, to government revenue agencies.
CEO Martin Rankin is well-liked, with a 99% approval rating from his employees — and he also came out as the 10th best CEO on Glassdoor's 2016 ranking. 
During certain times of year, long hours and work demands can get draining, some employees warned, but those downsides seem to be offset by the company's investment in its employees. 
A controller in Centennial, Colorado, wrote: "The family atmosphere makes working together as a team satisfying and successful, as well as the out of office adventures and team building. I have met a lot of different and unique people after being with Fast for 10 years."
2017 Employees' Choice Rating: 4.4
Inside sales representative: $45,406
What, might you ask, does World Wide Technology do, exactly? You're not wrong to guess it's something related to tech. It is a "global technology integrator and supply chain solutions provider" working primarily with the public sector, service providers and Fortune 500 companies.
WWT is yet another company on the list with a 99% approval rating for its CEO, Jim Kavanaugh.
Some reviewers say the pay isn't as good as it should be and that the "core values" at the heart of the company culture are exploited to favor management.
Others disagree: "I can't think of any negatives working at Worldwide," one employee said. 
A supply chain coordinator in Edwardsville, Illinois, wrote, "Extremely caring towards their employees as well as their customers. The benefits are amazing. The company thrives on making their employees happy, knowing it will make their customers happy." 
2017 Employees' Choice Rating: 4.4
Software engineer: $126,825
The ubiquitous tech giant has numerous divisions, from self-driving cars to the bold and innovative Google X.
Despite its many dimensions, the company's mission is pretty straightforward: to "organize the world's information and make it universally accessible and useful." Google is described as a place that moves quickly in small teams. 
CEO Sundar Pichal has 97% approval and came in as 7th best CEO in 2016. 
An engineering manager in Mountain View, California, wrote, "Smart people, data-driven decisions and culture, a mission I can feel good about when I go to sleep every night. This is as good as it gets."
As for potential drawbacks, a number of employees noted that a lack of work-life balance is common at Google.
2017 Employees' Choice Rating: 4.4
Consultant: $145,291
An international consulting firm on management and business strategy, Boston Consulting Group operates in nearly 50 countries.
Consultants work with firms and clients to "build the capabilities that enable organizations to achieve sustainable advantage."
CEO Richard Lesser has 98% approval from BCG employees and 89% would recommend working there to a friend.
That said, a commonly recurring critique is the dearth of work-life balance. Pluses include a "collaborative culture with people who truly care about your personal development," as a current employee in New York described. 
An employee in Boston wrote, "Great career progression, opportunity to learn, collaborative culture, very smart teams, great benefits." 
2017 Employees' Choice Rating: 4.5
Software engineer: $125,913
Facebook. You've maybe have heard of it. Apparently it's a cool place to work, too. It is self-described as mission-driven, with the goal of giving "people the power to share and make the world more open and connected."
It is a fast-paced workplace where smaller teams often collaborate, and a lack of work-life balance is a point of complaint for some employees.
But free meals and generous health insurance seem to sweeten the deal, and there are a number of other benefits and perks: "Sixteen weeks of paternity [leave] and cash benefits — what else you can ask for?" the employee review reads under "Benefits." 
A software engineer in Menlo Park, California, wrote, "From its openness to its diversity, Facebook has truly surpassed all tech companies in terms of culture, perks and employee lifestyle."
2017 Employees' Choice Rating: 4.6
Consultant: $138,298
One of the world's biggest consultancies, Bain and Company operates globally across a wide array of industries "to analyze, create and deliver sustainable solutions that help shape the world we live in," the firm writes in its Glassdoor overview.
CEO Bob Bechek was ranked number one in 2016 and has a 99% employee approval rating.
The company health insurance provides excellent coverage, according to workers, and the company is supportive of new parents. One reviewer wrote: "Industry-leading time off for both maternity and paternity leave. Option to extend if needed."
As for caveats? According to some employees, Bain's signing bonus leaves something to be desired, and like at other high-powered companies, workers noted that work-life balance can be tough at times.
But company culture makes it all worth it, some reviewers said.
A manager in Chicago, who has been working at the company for five years, wrote, "Those associates and consultants are going to knock down barriers for you, connect you where you need to be connected, guide, support, direct and re-direct you. The office support staff is going to fix your computer after you spilled coffee on it for the third time, find you the unfindable data source, and smile and hand you a baked good after you ask for help re-doing dozens of slides."