7 takeaways from Donald Trump's cabinet choices so far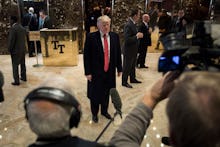 President-elect Donald Trump's ongoing selection of his cabinet has been the first indication of how he will manage the sprawling federal government as president, and the process has revealed crucial insights into how he and his team operate.
Holding court at Trump Tower in New York and at his golf course in Bedminster, New Jersey, Trump has interviewed dozens of candidates for top posts, rolling out his picks at a steady clip since November. His selection process has been met with both scrutiny and praise from critics and supporters, especially for the highly public nature of jockeying for top positions among the candidates.
Trump's choices for several department heads is still up in the air, most notably secretary of state, but his process for selecting other positions, as well as the picks themselves, foreshadow a Trump administration that might be more traditional than critics had expected. At the same time, several selections have raised serious questions about Trump's commitment to "draining the swamp" in Washington, as he repeatedly promised during the campaign.
Here are seven takeaways from Trump's cabinet picks thus far.
1. Trump is surrounding himself with more current and former members of the military than any recent president.
Trump famously claimed he "knows more about ISIS than the generals" during the campaign, but nonetheless has surrounded himself with members of the military, elevating more officers to high-level positions than any incoming administration in memory.
The most high-profile military officer in Trump's orbit is retired Marine Corps Gen. James Mattis, Trump's nominee for secretary of defense. Others include the incoming national security adviser, retired Lt. Gen. Michael Flynn; West Point graduate and nominee for CIA director Rep. Mike Pompeo; and retired Gen. David Petraeus, who is in the running for secretary of state. Trump has also sought the counsel of many other military officials since the election.
Members of Congress from both sides of the aisle have praised the selection of Mattis, who is one of the most celebrated officers of his generation. But some members and former military officials have questioned the wisdom of elevating a former general to secretary of defense, even while acknowledging his qualifications.
At issue is the paramount importance of civilian control of the military. Mattis retired from the Marines just three years ago after decades of service. Under the law, secretaries of defense must be at least seven years removed from military service, meaning Mattis will need a waiver from Congress to serve.
Writing in the Washington Post, Phillip Carter and Loren DeJonge Schulman of the Center for a New American Security warn that Trump's overreliance on military advice could undermine civilian control of the military, cause tensions between civilians and military leadership and politicize military institutions.
"Both the Trump administration and our national security will suffer if his appointments undermine the institutional integrity of the military and corrupt its leadership in service of political ends," they wrote.
2. Trump's nominees will likely survive confirmation ...
Trump's most controversial cabinet picks might not have survived the confirmation process just three years ago, even if Republicans had been in control of the Senate. But a change to Senate filibuster rules made by Senate Democrats in 2013 means Republicans only need 51 votes to confirm cabinet members.
Prior to the rule change, nominees had to clear a 60-vote threshold in the Senate to overcome a filibuster by the minority party. But the Democrats' 2013 decision to limit the filibuster to Supreme Court nominees means Trump has wide latitude to fill his cabinet as he sees fit. Democrats, who will likely have 48 seats in the new Congress, will have no options to block Trump's nominees without the defection of Republican members.
3. ... but Democrats can still make their lives miserable.
That doesn't mean the confirmation process will go smoothly. Democrats will the chance to question Trump's nominees in committee, and they're already relishing the opportunity to make Trump's most controversial nominees sweat.
"Democrats will use the confirmation process to highlight positions held by nominees that are either inconsistent with Mr. Trump's campaign promises or raise the sorts of ethical questions that Democrats tried in vain to hang around Mr. Trump's neck during the campaign, like refusing to release his tax returns," the New York Times reported on Saturday, citing remarks by incoming Senate Democratic leader Chuck Schumer.
High on the list of targets for Senate Democrats, according to the Times, are Rep. Tom Price, Trump's choice to lead the Department of Health and Human Services, and Steven Mnuchin, the former Goldman Sachs banker who Trump tapped as treasury secretary. Sen. Elizabeth Warren will be a key antagonist during several heated hearings.
4. Trump still places a premium on loyalty ...
Trump, who famously prizes loyalty, is rewarding those who hopped on the Trump Train early on. Trump's selection of Mnuchin as treasury secretary, billionaire Wilbur Ross as commerce secretary and Flynn as national security adviser are the most prominent examples of Trump loyalists being rewarded for their support.
Mnuchin was an early supporter and served as Trump's national finance director during the campaign. Ross's relationship with Trump dates back to the 1990s, and he was a vocal supporter and donor in the campaign, serving as a trustee on Trump's joint fundraising committee with the Republican National Committee. Flynn was an early foreign policy adviser for Trump who rose to become Trump's most trusted aide on matters of national security.
5. ... but has also shown a willingness to bury the hatchet.
Trump's flirtation with 2012 Republican nominee Mitt Romney as secretary of state would have been unthinkable just weeks ago. Romney was Trump's fiercest critic during the Republican primaries, delivering a high-profile speech in March in which he called Trump "a con man" and a "fraud."
Even if Romney doesn't end up getting the nod for the nation's top diplomat, the fact Trump considered him in the first place points to a more conciliatory approach than the president-elect has displayed in the past.
6. The secretary of state will be one of Trump's most important advisers.
The long, drawn-out interview process for secretary of state could be an indication of the influence the eventual nominee will wield in the administration.
The secretary of state is the highest-ranking position in the cabinet, standing third in line to the presidency. The range of candidates Trump has interviewed run the gamut from Romney to Petraeus to Rudy Giuliani to Sen. Bob Corker.
Unlike his more controversial cabinet picks, Trump's evolving short list for secretary of state — with the exception of Giuliani — has calmed the nerves of Democrats and some Republican foreign policy types who feared Trump might drastically alter the course of the United States involvement in world affairs.
7. Above all else, Trump remains a showman.
If there has been one constant about Trump since he descended the escalator in Trump Tower to announce his candidacy nearly a year and a half ago, it has been his showmanship. The formation of his administration has at times seemed like an episode of The Apprentice, with Trump himself encouraging highly public fights between his own aides over potential candidates.
He has thrown the traditional playbook for announcing his cabinet out the window, eschewing the staid ritual of trotting out his nominees before the television cameras and praising their qualifications. Instead, he has announced most of his picks by blasting out press releases and tweeting his decision.
However, the most notable facet of the transition has been Trump's "Thank You Tour," consisting of rallies before huge, energetic crowds that are indistinguishable from his campaign events. His team says he will continue to hold them as president as a way of communicating directly with his supporters. The former reality show star thrives off the sheer spectacle of the events, with three more currently on his schedule.
Regardless of how his presidency unfolds, one thing is certain: The Trump Show will continue.