This Muslim-owned restaurant was vandalized with bacon twice in one week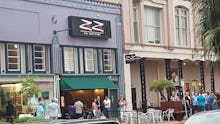 Some people see bacon as a breakfast meat. Others have found ways to use it as weaponry. 
Zaza Bar & Bites, a Muslim-owned restaurant in Galveston, Texas, fell victim to two bacon-involved vandalism incidents last Sunday, according to Eater. 
The first incident involved bacon grease, which was smeared over the door handles of the restaurant. The second incident involved bacon pieces sprawled all across the front of the establishment. 
Practicing Muslims abstain from consuming pork, which suggests the acts of vandalism could have been a deliberate target against the restaurant owners' religious affiliation. The perpetrators of these acts have yet to be apprehended or identified.
Zaza Bar & Bites' owner Asad Khan, who immigrated to the United States from Pakistan in 1993, told Eater that, in addition to the vandalism, he also has been receiving threatening phone calls telling him "to leave the country." 
Khan said he felt worse for the perpetrators than for himself, for living with so much hate.
"I feel bad for whomever did this because they're carrying so much hate in them," Khan told the Houston Chronicle. "I will get over this. I hope they get peace."
Khan also said he doesn't feel like a victim, noting that he still feels grateful to live in the U.S. 
"I don't have a victim mentality," he told the Chronicle. "I'm blessed to live in this country. Ninety-nine percent of my experience here has been nothing but phenomenal."
Bacon products have been used throughout the 2016 presidential election to target, intimidate and harass Muslims. In February, then-GOP nominee Donald Trump told a crowd of rowdy supporters a folklore story of an American general killing Muslims overseas with bullets dipped in pig's blood.  Four months later, according to a video uploaded by AJPlus, when white armed militia men in Texas were training to fight Muslims, one man explained the significance of using bullets dipped in pig's blood or bacon grease.
A similar incident occurred in October, when Alabama Police Chief Barry Pendergraft posted photos online of bullets smeared with bacon grease in an attempt to intimidate the Muslim community in the area. In February, 35-year-old white man Michael Wolfe used raw bacon and a machete to attack the Islamic Society of Central Florida Masjid Al-Munin Mosque in Titusville.
The strategy of using bacon as a weapon dates way back. For example, during the Spanish Inquisition, an official decree required all polvorones (shortbread-like cookies introduced to Spain by the Imazighen and Arabs of North Africa) to be made with pork fat. The intention behind the decree was to suss out Muslims and Jews hiding from persecution. 
Alarmed by the recent targeted bacon attacks, the Council of American-Islamic Relations chapter in Houston is asking the Galveston Police Department to probe the attacks as a hate crime. 
"Bias is the only reasonable explanation for the use of bacon in vandalism targeting a Muslim-owned business, and law enforcement authorities should keep that possible hate motive in mind when investigating this case and in bringing charges against the alleged perpetrator," CAIR-Houston Executive Director Mustafaa Carroll told the Chron.