'Harry Potter' gift guide: 12 gifts every aspiring wizard will appreciate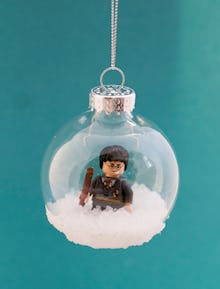 If you've ever heard "Accio Christmas gift!" being shouted on holidays, then there are definitely some Harry Potter fans in your house. Even though the last book of the series was released in 2007, Pottermania shows no signs of stopping, with more books, new movies and even a Broadway play to come. 
If plane tickets to England and pet owls don't seem appropriate for your holiday gift list, never fear: There are plenty of Potter-related presents to gift-wrap — and they don't even involve a trip to Diagon Alley. 
Get ready to fly with this Quidditch set, which includes two bludgers, one quaffle and one snitch. They are housed in a decorative trunk with a lock and key. The set is sold on Amazon; unfortunately, the broom is not included. 
If reading the Harry Potter books inspires cravings for treacle tart, then this cookbook, sold on Amazon, is just the gift for the Potterhead on your list. Recipes include pumpkin pasties and Molly's Meat Pies, so fans can continue their horcrux discussions over an apt dinner (as if they wouldn't, anyway!).
In between meals for non-muggles, wizardly cravings can be satisfied by using this lip balm sold on Etsy. Made with cocoa butter, jojoba oil, vanilla, butterscotch and Vitamin E, among other ingredients, it's soothing and delicious. 
And if the lip balm leads to cravings for something sweet, these mugs, sold on Amazon, need a place of honor in the kitchen. They are heat-sensitive and change color to reveal a hidden image. Tell the recipient that Dobby swiped them from the kitchen at Hogwarts. 
Just think of the mischief recipients could get into with a little bottle of this transforming potion. These bottles, which can be purchased on Etsy, come with an owl charm for an extra touch of Hogwarts. 
Harry Potter wouldn't have texted Ginny; he would have sent her a hand-written note with a proper seal — and so can fans of the books, using this wax seal kit sold on Amazon. 
If Potter fans consider coffee a magical life force, this is the mug for them. Just wait until they've had a few sips before asking them how they like it. 
Everyone could use a little extra luck in their lives, so why not give it in the form of some beautiful jewelry? This necklace, sold on Etsy, resembles a bottle of potion that brings good luck to the person who drinks from it. 
Engraved with the sayings "I solemnly swear I am up to no good" and "Mischief managed," this flask is guaranteed to make any imbiber and Potter fan smile. 
Coloring has been proven to help reduce stress and increase mindfulness, so this book, sold on Amazon, is the best of both worlds. 
The pieces are just a bit smaller than the ones in Wizards Chess, but this chess set, sold at the Universal Store, features a set of pieces for each Hogwarts house. 
If Potter fans already know everything there is to know about Gryffindor, then this off-Broadway play about the Hufflepuffs is just the ticket. Subtitled Seven Increasingly Eventful Years at a Certain School of Magic and Magic, the play delves into the lives of the house of Hogwarts students who may not have been the stars of the books, but are definitely stars of the show.