The best jelly donut and sufganiyot recipes for a sweet, sweet Hanukkah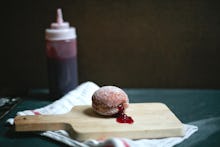 Across America, latkes steal the show around Hanukkah time. But there's another fried treat we need to focus on: Sufganiyot. These jelly donuts, popularized in Israel in the 1920s, fried to perfection to remember the Hanukkah miracle of oil burning for eight days, are now commonplace in Jewish communities across the world. 
It's about time you made some for yourself. Here are are a few sufganiyah (that's the singular version of sufganiyot, plural) and jelly dhnut recipes to fry up this Hanukkah.
Easiest sufganiyot ever
If making a jelly donut from scratch sounds totally intimidating to you, start with Molly Yeh's simple version to chase away the sufganiyot scaries. Get the recipe here.
Traditional Israeli jelly donuts
Anything covered in powdered sugar and stuffed with jelly is something you want in your holiday diet. Especially if it's fried. Master the technique with James Beard award winner Joan Nathan's recipe. Get the recipe here.
Strawberry jelly and vanilla cream brioche donuts
These jelly donuts are so elegant, give yourself a little extra time to admire them before stuffing them in your face. Get the recipe here.
Paczki
These Polish jelly donuts are the Eastern European sufganiyot you need in your life. Get the recipe here.
Strawberry jelly filled donuts
Those accustomed to traditional American donut shops will delight in these sugary, fluffy jelly pastries that ooze jelly as soon as you bite into them. Get the recipe here.
Heavenly hash donuts
Inspired by Austin's gourmet doughnuteer, Gordough's, these copycat donuts can be made from biscuit dough -- any easy hack for novice bakers! — and filled and topped with pretty much anything you desire. Get the recipe here.
Jelly donut muffins
If you're more of a baker than a frier, celebrate Hanukkah with these sufganiyot-inspired muffins. Get the recipe here.
Jelly donut cake
And if cake is more your style, why not go for a jelly donut themed cake? Get the recipe here.