The most fire pop songs of 2016: From Drake and Rihanna to Kelly Clarkson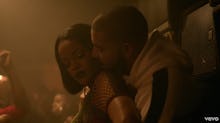 In 2016, Beyoncé made the world stop again, Ariana Grande transformed into a dangerous woman and Britney Spears made another comeback. The musical offerings this year varied from a few shoulda-been-hits to a slew of smashes that took over radio.
One of the bright spots of the year was that we were given so many great pop songs, from everyone from Rihanna to Alicia Keys, that we couldn't keep up. Here's our list of the most fire pop songs from 2016.
Ariana Grande, "Into You"
"Into You" is the best pop song released this year about wanting to be intimate with someone. While the second single from Ariana Grande's third album, Dangerous Woman, failed to chart as high as the less impressive "Side To Side," the Max Martin-produced dance floor anthem is on a continuous loop in our hearts. We're so into this song, we can barely breathe ...  
Britney Spears, "Slumber Party" 
Britney Spears' ninth studio album, Glory, features the pop princesses' most interesting music since her 2007 album Blackout. The legendary Ms. Britney Spears' second single off the album is a modern R&B sounding jam, that is one of her most infectious offerings in years. Plus, the music video for the remixed version, featuring Tinashe, is a return to form for Spears. 
Rihanna featuring Drake, "Work"
Leave it to Rihanna and Drake to gift us with one of the greatest earworms this year. The lead single off Rihanna's album ANTI has these two on-and-off lovebirds doing what they do best, which is teasing each other over an incredibly catchy chorus. 
Beyoncé, "Sorry"
Beyoncé was anything but sorry on her album Lemonade. On the visual album, Queen B is at her most evocative and genre-exploring (we'll never get over "Don't Hurt Yourself") and with "Sorry," Beyoncé has a moment. The song is a "middle fingers up" anthem to the guy who did you wrong, with Beyoncé shining on the vocals, showing off her strength and vulnerability at the same time. 
Demi Lovato, "Body Say"
Mariah Carey doesn't know who Demi Lovato is, but her ignored 2016 single "Body Say" is another should-have-been hit. Lovato slows things down on the sultry track and it's something completely different for the usually pop-rock leaning artist. More of this, please. 
Rihanna, "Needed Me"
If "Needed Me" is one of the best pop songs of 2016, then "Didn't they tell you that I was a savage?" is one of the best lyrics of the year. This is Rihanna at her most confident, and a twist on the break-up song: She's not sad, she's moved on and she's not sorry you didn't get the memo that it was just a fling. 
Kelly Clarkson, "Piece By Piece (Idol Version)"
After giving a performance on the final season of American Idol that left viewers in desperate need of tissues, Kelly Clarkson's remixed 2016 version of "Piece By Piece" is the singer at her best. The slowed down, piano-led version of the song is Clarkson at her most vulnerable since "Because of You" and it earned a Grammy nomination for best pop solo performance. 
Kanye West, "Fade"
Our most complicated pop star released a complicated album this year with The Life of Pablo. One of the standout tracks from the album is the irresistible "Fade," which has West back in the club and on the dance floor. The memorable workout video featuring Teyana Taylor is one of the rapper's best music videos in years, too. 
Sia featuring Sean Paul, "Cheap Thrills"
Sia's "Cheap Thrills" not only became her first No. 1 song on the Billboard Hot 100, but it was the first song by a lead female artist over the age of 40 to hit the top spot since 1989 when Bettle Middler's "Wind Beneath My Wings" went to No. 1. An incredible feat for a song about not needing a ton of money to have fun.
The xx, "On Hold"
The xx returned this year after the band's 2012 album Coexist. "On Hold," the first single from their upcoming album, I See You, is as moody as we've come to expect from the band, but with a light dance beat. They're back to remind us of how heartbreaking love can be and we've never been happier. 
Alicia Keys, "In Common"
Alicia Keys released her best song in years this year and it went unnoticed. "In Common" is a sexy, contemporary, R&B banger that infused a deep house sound that is uncommon for the songstress. It was a refreshing change of pace for the singer. Let's try to make it a hit in 2017. 
Tove Lo, "Cool Girl"
Any song inspired by Gone Girl's Amy Dunne is automatically a favorite of ours. Tove Lo's ode to being yourself and not trying to be the "cool girl" is set on top of a soft club beat. With ironic lyrics like "I'm a cool girl, ice cold, I roll my eyes at you, boy," Tove Lo reminds him that she really holds the power with a song that would make Dunne proud.