'Miss Sloane' review: Jessica Chastain shines in her riskiest role yet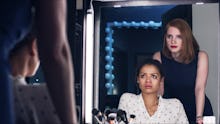 After her breakout role in 2011's The Help, Jessica Chastain became ubiquitous: She went on to star in 15 movies since (17, if you count the Him and Her versions of The Disappearance of Eleanor Rigby) over the past five years, and earned herself two Oscar nominations. 
Chastain got a best supporting actress nomination in 2012 for her role as Celia Foote in The Help and in 2013 scored a best actress nomination for her performance as Maya in Zero Dark Thirty. In Miss Sloane, Chastain makes a great case for a third nomination. 
Chastain has proved herself a chameleon. Venturing into horror in Mama, the mob world in A Most Violent Year and whatever The Tree of Life was, Chastain has proven she has the range. While the roles have varied, few have been as explosive or as risky as Elizabeth Sloane.
From director John Madden (Shakespeare In Love, Proof), Miss Sloane revolves around Elizabeth Sloane, a high-power, cutthroat and over-the-top lobbyist in Washington, D.C. Sloane doesn't take "no" for an answer and will do whatever it takes to win — and she means whatever. Sloane is so cunning, she is several steps ahead of her opponents, with an incredible wardrobe that amplifies her skill set. She leaves her job at one of the top firms for a smaller one, where she is hired to pass a law that requires more thorough background checks to improve gun control.
In Miss Sloane, Chastain does a majority of the heavy lifting. While she is surrounded by a spectacular supporting cast — including Gugu Mbatha-Raw, Alison Pill, John Lithgow and Mark Strong — Chastain chews at the scenery with every line of dialogue, cold stare and palpable entrance. 
The script, written by first-time scribe Jonathan Perera, is from the Aaron Sorkin world of screenwriting: loud dialogue, filled with walk-and-talks and spitfire monologues, all of which Chastain elevates. Although the film is ultimately undone by its ridiculous third act, where the reveals and twists are just too improbable, she carries the audience through until the end.
Chastain is completely aware of the excessiveness of her character: Sloane is intentionally cold and isolated. She uses those closest to her for personal gain and has few intimate relationships outside of work. Conscious of the exaggerated reality the film is set in — Sloane would probably find herself best-friends with Kerry Washington's Olivia Pope from Scandal — Chastain goes for it. 
This year is shaping up to give us one of the most competitive best actress Oscar categories in a while. Emma Stone and Natalie Portman are currently the frontrunners for the award, for their films La La Land and Jackie, respectively, with Annette Bening, Amy Adams and Isabelle Huppert all vying for a spot. 
With Miss Sloane, Chastain makes a case for a nomination of her own. She gives an exceptional performance that is one of her best and stands out among her already overflowing resume.