Post-election, feminists fight back with tattoos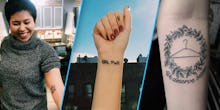 On election night, like so many, 26-year-old Nicole Narvaez's feelings "kind of exploded." 
"I went to bed in tears and woke up to the final news hysterical," Narvaez recalled. "I cried on the train to work, at work, after work and many days since. Following the election I decided I wanted and needed to do something for myself that also meant something bigger." 
And how she'd do that, she thought, was with a tattoo. 
"I needed to remind myself that our new president-elect and all the horrible things he has said and represents isn't a representation of humanity, and to not let it eat me up entirely," Narvaez said. "I needed something to remind myself of how strong I can be." 
On the Thursday night after the election, and after doing some research online, she walked into a tattoo parlor and got "GRL PWR" on her wrist and the Venus sign commonly associated with feminism on her pointer finger. "The two tattoos work in tandem when my hand is in a fist straight into the air," Narvaez explained. "They work off one another."
Narvaez is not alone in feeling an urge to get something permanent on her body after the election. According to a number of tattoo artists Mic contacted, there's been an influx of politically charged requests for tattoos, ranging from people wanting their own personal beliefs now inked into their body, to people simply wanting to be inked with something that reminds them of the good in the world.
"It's a true insurgence of people switching over from lighthearted themes to something a lot more clearly motivated by their grief and anger and frustration," Patrick MacDonald, the tattoo manager at Lucky's Tattoo & Piercing in Northampton, Massachusetts, said in an interview. "I think people want to express that they have a position." 
Two days after the election, MacDonald saw this firsthand, with a customer walking into the shop expressing a deep need to find a way to display their belief in women's rights with the help of a tattoo.
What the client, who interned at a women's health center last year, ended up getting was a coat hanger encircled in flowers with the words "We deserve better" written below it. 
"With all the shit with Pence and all these guys who are coming into power who seem to be vehemently against women's rights, they wanted to take a stance and put something on their arm that signified their position," MacDonald said. 
Tattoos with feminist messages have been hugely popular for tattoo artist Jess Koala, who works in San Francisco's Black & Blue Tattoo, as well. During the past four weeks, she's seen dozens of women come into the shop asking for the Venus sign tattoo. In the next few weeks, she'll be tattooing a Hillary Clinton pantsuit onto someone's body too. 
"It was immediate. The-day-after-the-election immediate. People are really using these as badges of honor and solidarity and taking a stance any way they can," Koala said. "People are feeling like they're gearing up for a fight. A lot of people would say they're preparing to fight for their liberties and this is a way to show that."
Over in Philadelphia, tattoo artist Eric Guntor, who works at Spirited Tattooing Coalition, has seen an influx of political symbols, as well as people wanting to get reminders on their bodies. 
One client came in and asked for the symbol of the Iron Front, which is comprised of three arrows pointing in one direction, to symbolize his anti-fascist and anti-Nazi beliefs. 
Another customer came in and got "Take Good Care" written across their fingers with an inverted triangle as a reminder to take care of themselves and their queer community. And then there was a person who came in and got the more mysterious words "Lose Well." 
"It was about trying to be graceful in the loss that happened not only to Hillary, but also to the people who feel like they lost with this," Guntor said. "A lot of people felt like we lost and not just Hillary. Like our morals and what we stand for were totally defeated." 
Beyond political messages, there are also people using tattoos as a way to remind themselves of some sliver of hope and positivity. 
That sentiment was most important to Natalie San Luis after the election. She works for a reproductive rights nonprofit in Houston, Texas, and in the days following Trump's election, describes her mood as "bereft." 
On the Saturday following the election, she traveled to Chicago and got a tattoo of a symbol that represents the Voyager 1 spacecraft, which was blasted into space in 1977. She had admired it for a while now because it contains the Golden Record, a collection of some of the more magical aspects of humankind, from the sound of a baby crying to the sound of rain. 
"I needed a reminder that there is beauty in humanity and that humanity is not purely self-interested and violent and self-serving," San Luis said. "And then I also think that since the election shook my whole worldview and made me wonder if humans were inherently bad, it was the perfect catalyst in looking forward instead of meditating constantly on this horrible event." 
San Luis has three other tattoos, and none had previously been sought out in response to a political event. So that raises the question: What are these tattoos really doing for these people to help them heal right now? 
Why tattoos? "There's a lot of catharsis involved in getting tattoos," MacDonald said. "You lay down. You endure for the idea that when you stand up and look in the mirror, you've imparted some change in yourself that you can control and that's pretty powerful I think." 
And that feeling of changing yourself, on your own terms, feels especially important right now as people feel like things are changing around them without their permission. 
"Liberal folks especially think they've been handed a complete loss of control and with tattooing, it's about doing something to care for yourself and put something pretty on yourself and think about something else for a while," MacDonald continued. "We all tried to really take control of something that really went off the fucking rails and now I think, as far as I'm concerned, a lot of what we need to do is to pay attention to ourselves and our community and take care of one another." 
How they feel now: In the weeks since getting their respective tattoos, Narvaez and San Luis concur that looking down at them now gives them a sense of ease. 
"It means 8 million things to me and it's one of the very few things that have brought me joy since the election," San Luis said. "It's this piece of art on my body that reminds me of something that's so much bigger, like the Voyager will be around longer than humans, so it reminds me of things and values that are longer lasting than the politics."
For Narvaez, it remains downright empowering. 
"Whenever I glance at it I feel a little bit stronger and secure in my own skin," Narvaez said. "And now whenever I read about politics or see a story that makes my heart ache, I glance at my tattoo to remember all the awesome people and women who exist doing and believing in the right thing."