'Final Fantasy 15' Cactuar Location Guide: How to find a cactuar needle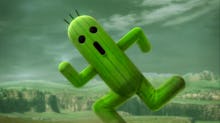 Cactuars are some of the most iconic creatures in Final Fantasy, but they're easy to miss in Final Fantasy 15 if you're not looking out for them. In fact, you might not have even known they were in the game until Cid asked you to bring him a cactuar needle as a part of the quest where he upgrades your crossbow. 
Even if you aren't trying to upgrade your weapons, cactuars give out tons of experience when you defeat them. So you'll want to know where they lurk.
Data is far from concrete on exactly where you'll be able to reliably encounter them, but here's a rundown of rumored locations where you can find cactuars.
Final Fantasy 15 cactuar location
Though you might be expecting cactuars to be easy to spot, they're super tiny in Final Fantasy 15. You can see footage of a player encountering one in the video below.
For reference, here's a screenshot of the map location where they found that cactuar:
The video seems to infer that you'll encounter cactuars regularly in that location if you return to a nearby rest area after defeating one to let it regenerate. So give it a shot.
According to Prima Games, you're also likely to run into them north of the Longwythe rest stop near Hammerhead. Some outlets, like iTech Post, report that cactuars are more likely to appear in the early morning hours, but that hasn't been proven. Still, if you're having trouble finding one, it's worth trying.
More Final Fantasy 15 news, updates, tips and tricks:
If you're ready to get your bromance on, you'll want to read up on all of Mic's Final Fantasy coverage, including a roundup of the most mouthwatering food from Final Fantasy 15, a big list of tips and tricks, the juicy details on Noctis/Prompto fan art, a guide to fishing in Final Fantasy 15, a guide to changing your chocobo's color, a guide to finding a sturdy helixhorn, a guide to summoning, a review roundup from all the big gaming outlets, rumors about a PC release and Conan O'Brien's reaction to the game on his show.