Carrier union leader says Trump "lied his ass off" about number of jobs he actually saved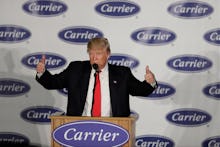 Although President-elect Donald Trump — with the help of the media — has been lauding his deal with Indianapolis-based heating and refrigeration company Carrier to keep a number of jobs from being outsourced to Mexico, there is at least one person not impressed with it: a union president that represents Carrier workers.
Chuck Jones, president of the United Steelworkers 1999, told the Washington Post he wondered why Trump said Thursday that he saved "over 1,100" people's jobs, when in reality, it was just 730 production positions — and 550 workers would still lose their jobs.
"But he got up there," Jones told the Post, "and, for whatever reason, lied his ass off."
As Mic previously reported, the amount of jobs Trump's deal is actually saving has been grossly misrepresented by the president-elect himself and his surrogates. The deal also hasn't been without its critics on the right, Sarah Palin calling it a "hallmark of corruption" and "socialism."
"Trump and Pence, they pulled a dog and pony show on the numbers," Jones, who voted for Hillary Clinton, said of Trump's inflation of the total. "I almost threw up in my mouth."
Deals like the one Trump made with Carrier could have unintended consequences, economists warn, such as stalled innovation and other companies using threats of offshoring to demand similar tax breaks.