YouTube's Top Music Videos of 2016: What the choices say about music this year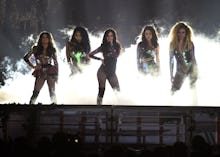 2016 proved to be the year of the inescapable hit. There were a handful of songs from this year that took up residence on to the Billboard Hot 100 chart for several weeks on end, giving artists some of their biggest hits to date and showcasing the year's trends in music. 
According to Entertainment Weekly, YouTube announced its list of the most watched music videos of 2016 on Wednesday, and landing in the top spot is Fifth Harmony's "Work from Home." The video, which premiered on the site in February, has already garnered over a billion views and is still gaining.  
Following right behind Fifth Harmony was one of the major songs of the summer, Calvin Harris' "This Is What You Came For" featuring Rihanna. The video garnered the biggest audience in the first 24 hours of its premiere.
Other notable entries include "Nicky Jam" by Hasta el Amanecer, "Closer" by The Chainsmokers featuring Halsey, "Work" by Rihanna and "I Took A Pill In Ibiza" by Mike Posner.
YouTube success heavily influenced Billboard success.
The top performing music videos speak at large to how people consumed their music in 2016. In 2013, Billboard started counting views on official YouTube videos towards Billboard chart ranking, and this year it really showed. 
The music videos on the list make sense: "Work" was No. 1 for nine weeks on the Billboard Hot 100, "Closer" topped that success by remaining the No. 1 song for 12 consecutive weeks and Sia's "Cheap Thrills" featuring Sean Paul was her first No. 1 song. 
Girl-groups saw a resurgence.
Fifth Harmony had minor success before "Work From Home" with the Kid Ink-featuring song "Worth It" from the group's debut album Reflection, which peaked at No. 12 on the Billboard Hot 100 chart. 
The video's YouTube success mirrored the success of "Work From Home" on the Billboard Hot 100. The lead single from the band's sophomore album 7/27 has charted for 34 weeks and counting so far, peaking at No. 4 on the Hot 100. The song also went No. 1 on the Rhythmic Songs chart — an incredible feat for the band, as it was the first time in 15 years (since Destiny's Child's "Survivor" in 2001) that a girl-group had snagged the No. 1 spot.
There was little to no follow-up success.
A majority of the artists who scored top songs this year failed to recapture the magic with their follow-up singles. Fifth Harmony's "All In My Head (Flex)" peaked at No. 24 on Billboard's Hot 100, and their third single, "That's My Girl," has only reached No. 73 so far. Both songs are fairly similar in style and sound to "Work From Home," but neither managed to achieve the same level of success on the charts.
While Sia's "Cheap Thrills" was her first No. 1 single, the song was actually the second single off her album This Is Acting. The album's first single, "Alive," reached only No. 56 and only charted for a mere three weeks. Rihanna's "Needed Me" has become her longest-charting song, but it failed to crack the top five. 
What about everybody else?
Acts like Beyoncé, Lady Gaga and Britney Spears all released new albums without a major song or music video. Spears' "Make Me," from her ninth studio album Glory, peaked at No. 17; Beyonce's "Formation" at No. 10; and Lady Gaga's "Perfect Illusion," her lead single from Joanne, peaked at No. 15.