Joe Biden gives America a pep talk and discusses potential 2020 bid with Stephen Colbert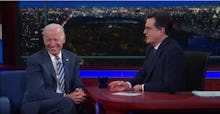 When Vice President Joe Biden first appeared on The Late Show With Stephen Colbert back in 2015, Biden clarified that he didn't have plans to run in the 2016 election after the death of his son, Beau. It was an emotional interview; one that cemented Colbert's place in late night with a deft touch of humanity. Since the first Biden interview, however, Donald Trump will be America's next president and, quite understandably, has many Americans concerned. 
With Biden's return to The Late Show Tuesday night, America received a pep talk from their television dad, Colbert, and presidential "pops" Biden. So the duo sat us down and explained that these changes the "family" is going through aren't permanent. 
"It happens to every family, but I'm telling you: This terrible feeling you're having right now, it's not permanent," Biden explains. "It'll be over in four years — maybe eight." 
Biden later addressed his comments from Monday, in which he intimated that he was considering a 2020 presidential run. "I am going to run in 2020 ... for president," Biden told reporters Monday, before adding, "What the hell, man?" While the vice president joked that not running in 2016 had helped him become more popular among Americans — and maybe he'd consider doing the same for the next election — he ultimately admitted that he doesn't know what would happen in the next four years. In other words, he's not leaving anything off the table, which Colbert noted. 
"That is the sound of a door creaking open, is what that is," Colbert responded. 
"I mean, I can't see the circumstance in which I'd run, but what I've learned a long, long time ago, Stephen, is to never say never," Biden said. "You don't know what's going to happen. I mean, hell, Donald Trump's going to be 74 — I'll be 77, in better shape. I mean, what the hell?" 
You can check out Biden discussing a potential 2020 run with Colbert below: