'The Great Wall' starring Matt Damon is being accused of whitewashing and propaganda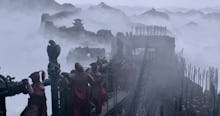 Like many industries in our country, diversity remains an issue in Hollywood. Thankfully, some progress has been made: The Academy of Motion Picture Arts and Sciences' class of 2016 is more diverse than ever, but despite this effort and others to prevent future occurrences of issues like #OscarsSoWhite and the gender gap, there is still much work that needs to be done. One controversy which continues to pop up in film is the casting of white actors for traditionally non-white characters. Now, Matt Damon's upcoming film, The Great Wall, is in the news for all the wrong reasons: whitewashing. 
But is The Great Wall an act of whitewashing? Fresh Off the Boat actress Constance Wu took to Twitter over the summer to raise awareness for this issue after the premiere of The Great Wall's first trailer. 
Among other things, the actress stated, "We have to stop perpetuating the racist myth that [only a] white man can save the world." She added that "our heroes don't look like Matt Damon. They look like Malala. Ghandi. Mandela. Your big sister when she stood up for you to those bullies that one time." 
Matt Damon responded to the controversy at New York Comic Con in October. The actor told the crowd that the whitewashing accusations were a "fuckin' bummer."
Yeah, it was a fuckin' bummer. I had a few reactions. I was surprised, I guess because it was based on a teaser, it wasn't even a full trailer let alone a movie. To get those charges levied against you ... What bummed me out is I read 'The Atlantic' religiously and there was an article in 'The Atlantic.' I was like, 'Really, guys?' To me whitewashing was when Chuck Connors played Geronimo. (laughs) There are far more nuanced versions of it and I do try to be sensitive to that, but Pedro Pascal called me and goes, 'Yeah, we are guilty of whitewashing. We all know only the Chinese defended the wall against the monster attack.'
But is this whitewashing? 
In a recent interview with the Associated Press, Matt Damon once again addressed the controversy, but explained it is not whitewashing, and the story was overblown because of fake news, Vulture reported.
"[The whitewashing news] suddenly becomes a story because people click on it, versus the traditional ways that a story would get vetted before it would get to that point," Damon said. 
Damon went on to describe The Great Wall as "a monster movie." 
"It's a historical fantasy and I didn't take a role away from a Chinese actor ... it wasn't altered because of me in any way," Damon said.
Damon did state that whitewashing is a very important issue in Hollywood, but The Great Wall simply is not the same thing. 
"When I think of 'whitewashing' I think Chuck Connors playing Geronimo, that's whitewashing and that's unacceptable," Damon said, Reuters reported.
It is true that Damon playing a character written as white is not the same thing as say Johnny Depp (ignoring his claims of Native American ancestry) playing Tonto in The Lone Ranger or Tilda Swinton playing the Ancient One in Doctor Strange. 
So, in that regard, The Great Wall is not whitewashing a traditionally non-white character. But then, why write a white protagonist in the first place into a film that takes place in historical China? Why not portray the hero as Wu describes?
Money still speaks loudest.
Perhaps Damon's character being white plays a large role in the narrative. But, more likely, the role was meant for someone with the star power and bankability of an actor like Damon. Because, in the end, money still speaks loudest.
For instance, if we take a look at Vulture's rankings of the most bankable stars, there is no actor of Asian descent in the top 100. The problem then, which is only further compounded with these types of castings, is the perpetuation of a belief that there is not a bankable Asian, or other foreign star (in America), who can contribute to the financial success of a film. 
The solution to the problem seems simple: stop whitewashing roles. Meaning, stop casting white actors as non-white characters, and perhaps, just as importantly, refrain from writing white characters in roles that could (or should) be occupied by non-white actors. But it is not that simple, unfortunately. 
According to IMDB, The Great Wall carries an estimated production budget of $135 million. Films generally need to earn at least double their production cost to break even. So, The Great Wall needs to earn nearly $300 million dollars, and that would still likely be considered a disappointment. Of course, the film's marketing costs may be so great that the film needs to do closer to $500 million worldwide, we just do not know at this moment.
The financial requirements of a film like The Great Wall likely led to the casting of an international star like Matt Damon, whose latest film, Jason Bourne, earned $253 million of its $415 million worldwide gross from international markets. But Hollywood must continue striving to cast diverse actors in important roles, so in the future, studios feel less pressure to whitewash for financial reasons. 
This says nothing about what kind of movie The Great Wall will be. Helmed by the acclaimed director of House of Flying Daggers, Yimou Zhang, The Great Wall has all the makings of an epic historical-fantasy adventure. Still, it seems like a missed opportunity for The Great Wall not to have featured an Asian lead hero, especially given the exponential growth of the Chinese box office. 
Now, to be fair, The Great Wall does feature many talented Asian actors including: Tian Jing, Hanyu Zhang, Eddie Peng, Lu Han, Kenny Lin, Junkai Wang, Zheng Kai, Cheney Chen, Xuan Huang and Andy Lau. 
If the actors above play a large role in The Great Wall's narrative, it could be that Damon is just one part of a large ensemble that does not perpetuate the myth Wu is concerned with. Perhaps he is not the savior of the film, but rather, just one piece of a larger collaboration. If so, The Great Wall will feature many heroes that fit Wu's description and could be taking steps to correct the problem we are discussing. Ultimately, we will have to wait and see the movie to know for sure. 
The Great Wall opens in theaters on Feb. 17, 2017.