'Pokémon Go' Update 0.49.1/1.19.1 Patch Notes: Improved buddy system and Pokémon transfers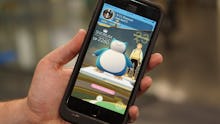 Pokémon Go update 0.49.1/1.19.1 makes some useful changes to the user interface, gives you easy access to new information and also contains a nice update for gym battlers.
Do you get angry with Pokémon Go when you can't find the information you need, or when things take too long to do? The way a game displays information, its UI, is important for any video game to be fun. Most of these updates involve helpful UI tweaks. Good news all around.
Pokémon Go update 0.49.1/1.19.1 patch notes: Earn candy faster with faster Pokémon transfers.
Hatching eggs is a good way to earn Pokémon candy, but your steady, dependable source for candy is just catching Pokémon. Then, when you have a glut of a certain species, you transfer a bunch of them over to Professor Willow to get candy.
If you like to transfer Pokémon in batches, rather than having to select each of those Pokémon individually and send them to the professor one by one, now you can mark a bunch of Pokémon and transfer them together all at once.
Pokémon Go update 0.49.1/1.19.1 patch notes: The Pokémon buddy system just got better.
Choosing a Pokémon as your buddy and then walking around with them in order to earn candy was a neat little function Niantic added to Pokémon Go in September. Pokémon Go update 0.49.1/1.19.1 adds some new UI information to help you track your progress with your buddy.
Once you've applied the update, you'll be able to see how much candy your buddy has. Find it in the buddy information screen you see when you tap on the photo of you and your buddy on the main game screen. You will also be able to see how far you've walked with any Pokémon that has ever been your buddy.
Pokémon Go update 0.49.1/1.19.1 gives gym battlers help choosing the right Pokémon.
All Pokémon have weaknesses to specific types of attacks. Fire-type Pokémon are often weak to water attacks, for example. And when you want to attack an enemy gym, part of the reason for inspecting the lineup of defenders is to choose an attacker squad that can take advantage of the defenders' weaknesses.
Update 0.49.1/1.19.1 makes this easier by adding to the gym battle approach screen an icon that identifies the Pokémon by type, which will make it easier for you to put together just the right squad to take down those defenders.
More Pokémon Go hacks, tips and tricks
If you're psyched about UI changes you may also want to check out Mic's Pokémon Go guides. Here's the new top 10 attackers list and the new top 20 rankings following the balance update, guides on post-update Chansey and Rhydon, everything you need to know about finding the long-awaited Pokémon Ditto, creating new PokéStops, how to maximize your chances of catching Pokémon and fresh information about how PokéStops distribute Pokémon eggs.