Twitter founder Jack Dorsey's feelings about Donald Trump's tweets are "complicated"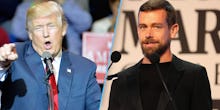 President-elect Donald Trump has 16.9 million Twitter followers and has composed more than 34,000 tweets since joining the social media platform in 2009. For better or for worse, Trump and his staff keep his Twitter active.
Twitter founder and CEO Jack Dorsey recently broke his silence on his feelings about Trump's erratic, often abrasive, sometimes dangerous and usually controversial tweets. Basically, he said, it's "complicated."
According to the Guardian, when Dorsey was asked about Trump at the Code Commerce conference in California, Dorsey said he recognized the value of having the future president as a regular user. And though he didn't criticize Trump's tweeting style directly, he said Twitter is entering an "important time."
"I feel very proud of the role of the service and what it stands for and everything that we've done, and that continues to accelerate every single day," Dorsey said. "Especially as it's had such a spotlight on it through [Trump's] usage and through the election. He's known how to use it for quite some time. I think it's an important time for the company and service."
Trump's use of Twitter is... "interesting."
Skirting again around the controversial nature of Trump's tweeting style, Dorsey opted, instead, to explain the "fascinating" idea of a U.S. president giving his followers insight into his thoughts in real time.
"Having the president-elect on our service, using it as a direct line of communication, allows everyone to see what's on his mind in the moment," Dorsey said. "I think that's interesting. I think it's fascinating. I haven't seen that before. We're definitely entering a new world where everything is on the surface and we can all see it in real time and we can have conversations about it. Where does that go? I'm not really sure. But it's definitely been fascinating to learn from."
Will Trump give up Twitter?
During a Today Show interview after being named Time's Person of the Year, co-host Matt Lauer asked Trump: "Can we agree, president-elect Trump, that at this stage it would be better for you to simply stop watching SNL, as opposed to watching it and then complaining about it?" Trump responded by criticizing the show, saying he likes Alec Baldwin but said the show's skits about him were "mean-spirited."
But while recent Twitter bans have left room to question whether Trump's account will be next, it doesn't look like he plans to stop tweeting anytime soon.