Richard Spencer sparks protest at Texas A&M, says America "belongs to white men"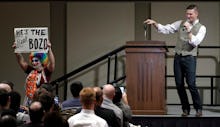 Richard Spencer, the notorious white nationalist, was met by hundreds of student protesters Tuesday evening during his speaking engagement at Texas A&M University. Police officers, equipped with helmets and protective shields, clashed with protesters who were blocking the banquet hall in College Station, Texas, where Spencer was speaking. 
Spencer, credited for founding the alt-right movement, was speaking on white nationalism to a crowd of 400 and credited Donald Trump's presidential win as a victory for white men. 
"Whether it's nice to say that or not, we won," Spencer told the audience. "And we got to define what America means. We got to define what this continent means. America, at the end of the day, belongs to white men."
The crowd's response, according to the above video on Twitter, was met with both boos and applause.
Quentin Boothman, a white freshman at the university, silently protested Spencer by standing between him and the audience. According to CNN, Boothman held a poster sign of a gun pointed at Adolf Hitler with text reading "follow your leader."
After Spencer poked and prodded Boothman, Jalen Brown, a black freshman, joined his fellow student in protest and locked arms. Together, in solidarity against hate, the two freshman glared at Spencer, CNN reported.
Soon after, a white nationalist audience member retaliated by standing between Spencer and the freshmen. The standoff between protesters and white nationalists intensified enough to result in police intervention.
A Facebook Live uploaded by Texas A&M senior Hana Zeenath Khan shows police officers clashing with protesters. They are heard chanting "the whole world is watching." 
Khan said to Mic she didn't know exactly what prompted the police officers to physically confront protesters. She said all the protesters were unarmed, standing and chanting in protest.
"It's hard to believe," Khan said. "The minute they began pushing back I saw them using the batons and shields. It was shocking that they were actually pushing us. They started screaming, 'Move!' at us and most of us didn't know how to react."
"I saw them hitting my friends with the batons and their shields. It got too unreal for me," Khan added. "I was trying to film it all on my phone and the riot cop was hitting me. He hit me in my shoulder with his hand. It's still sore."
Amy Smith, senior vice president of the university's marketing and communications department, said she was not aware of any incidents where campus police physically attacked students.
"I'm not aware of anyone getting hit by the police. I am not aware of that at all," Smith told Mic over the phone. "[The scuffles] were resolved very quickly. It was a peaceful event to an uninvited guest on campus."
"We had one scuffle at which a person was detained and later released once out of the building," Smith added. 
It's important to note that Spencer's speaking engagement at the Memorial Student Hall was not a university-sponsored event. Since Texas A&M is a public university, private citizens are allowed the opportunity to rent out university spaces. Most of these spaces, according to Smith, are rented out for receptions or to groups like the Boy Scouts of America. The banquet hall for Spencer's speech was rented out by a private citizen in the area. 
"I was very proud of the students in how they responded with exercising their own right to free speech against someone who has their own reprehensible, detestable [and] poisonous views," Smith added. "We're glad that he's gone."
The university administration hosted an "Aggies United" event, organized in response to the gathering of white nationalists on their campus, at the same time of Spencer's speaking engagement. The event rallied students, staff, faculty and community members to stand in solidarity against hateful speech and racial intolerance. 
The lineup of the event included a diverse set of speakers from the university administration and student body.  It also included political commentator Roland Martin, Covert Affairs actor Hill Harper, musician Bill Rector and Grammy-nominated artist V. Bozeman. Max Glauben, a Holocaust survivor from Warsaw, Poland, also spoke. Smith said approximately 7,000 students attended Aggies United which was held at the school's stadium.
Two protesters, neither of them Texas A&M students, were arrested Tuesday at the Spencer event. According to local radio station WTAW, one person was charged with felony assault of a public servant, and misdemeanor charges for interfering with public duties and resisting arrest. The other was charged with two misdemeanors: resisting arrest and evading detention. A crowdfunding page by an anarchist group in Houston is raising funds to bail the two protesters out of jail. 
Spencer went on to accuse "the media" of slandering the white nationalist movement, referring to a viral video uploaded in November by the Atlantic revealing audience members at an alt-right  gathering in Washington, D.C., performing Nazi salutes. In the video footage, Spencer is heard shouting: "Hail Trump! Hail our people! Hail victory!" 
Spencer said Tuesday the backlash from the video was due to a "desire by the media to slander us with one piece of 30-second footage."
In his remarks, he also called for white men to take upon a "goddamn identity" to combat allegations of being "racist."
"Race is the foundation of identity," Spencer said. "The word racist is a fake word. No one identifies with the word 'racist.'"
Dec. 7, 2016, 3:00 p.m.: This story has been updated.