'Ink Master' winner Ryan Ashley Malarkey almost appeared on another season of the show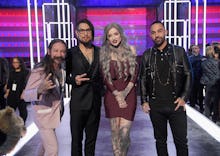 On Tuesday night tattoo artist Ryan Ashley Malarkey was named the season eight winner of Ink Master. Not only did the 29-year-old win the title and $100,000 grand prize, she also became the first female winner in the history of the show. But believe it or not, Ryan was almost a cast member on a previous season of the Spike reality series.
Ink Master showrunner and executive producer Andrea Richter revealed to International Business Times in October that they had poached Ryan for a previous season before landing her for season eight.
"Sometimes we have artists who are waiting in the wings because it's not the right timing in their lives to leave for a couple months," said Richter. 
For Ryan, the issue of timing revolved around her business and fiancé, musician Josh Balz. The tattoo artist told Mic prior to the finale that she and Balz, who is the keyboardist for Motionless in White, are the owners of The Strange and Unusual Oddities Parlor. The pair own two shops, one in Philadelphia and another in Kingston, Pennsylvania, where Ryan also tattoos. While Balz is on tour for seven to nine months out of the year, Ryan tattoos about 50 to 60 hours a week and runs the businesses.
"They've been trying to get me for a few seasons," Ryan said to Mic. "My life is very crazy. ... It's hard for me to pick up and leave for two months and leave everything in the hands of people that we trust because we're so passionate about our businesses. Our businesses, and our homes, and our pets and everything like that — I was the one that had to stay home and hold everything down."
According to Ryan, the "stars finally aligned" in season eight. Balz's tour schedule allowed him to be home for an extended period of time and Ryan took the opportunity to join the Ink Master cast. 
"Everything happened for a reason and I'm so, so thankful that I waited for this season because I couldn't feel more honored to be a part of the cast that we had in season eight."
Things ultimately worked out for Ryan. The artist won America's vote during the Ink Master finale Tuesday night and made it to the top two after completing a seven hour black and grey fine line tattoo. From there she faced fellow contestant Gian Karle Cruz. Judges Dave Navarro, Oliver Peck and Chris Nunez critiqued the 24-hour chest piece tattoos that Ryan and Gian completed prior to the finale, and determined that Ryan was the season eight winner.