'Overwatch' Christmas Skins: Blizzard jokingly teases fans with a new image on Twitter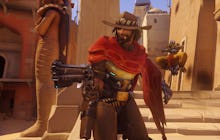 Shortly after Blizzard officially announced its long-rumored Overwatch holiday event, the folks who run the Overwatch Twitter account decided to have a bit of fun with fans who were clamoring for more information about which limited-time skins the event would offer. 
Overwatch Christmas Skins: Overwatch Twitter teases fans
Past in-game events — like the Olympics-themed Summer Games event in August and the Halloween Terror event in October — provided players with an opportunity to earn limited-time items. The most sought-after items tend to be skins, which customize a player's appearance. When one fan asked the Overwatch Twitter for a clue about what skins the holiday event might bring, it cheekily responded with a diagram of literal, actual skin.
Cute, Blizzard. But also, gross.
Blizzard usually releases details about its in-game events on the day the event begins, so don't hold your breath for more details until Dec. 13. Until then, check out these awesome fan-made concepts for holiday skins to hold you over.
More Overwatch news, updates, tips and tricks from Mic:
If you're ready for more Overwatch, you'll want to check out Mic's latest Overwatch news, like the official announcement of Overwatch's holiday event, fans' best ideas for holiday-themed skins, this weird story about players debating Bastion's gender on Reddit, information on Symmetra's upcoming rework, the latest details on season 3 of competitive play and a look at the new Oasis map on the PTR.