How one fashion brand is finally catering to the underserved plus-size man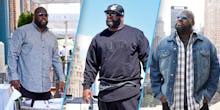 Mo Vaughn, a former baseball player who played for the Boston Red Sox and the New York Mets, knows how hard it is to be a big guy shopping for clothes.
For years, he'd walk into big and tall sections and be faced with clothes that looked the opposite of modern, all oversized jeans and cheap-looking button downs. Because of his profession, he could afford tailoring and custom-made garb, but knew that a majority of men like him were stuck scanning those racks of untrendy and unflattering clothes. 
"The trendy, modern stuff just wasn't around. It wasn't there. It wasn't anywhere," Vaughn said in an interview with Mic. "I just figured, why can't 2X and 4X guys have the same styles as everybody else in this world and have this cool look? Why can't we have premiere denim, premium T-shirts and the certain lifestyle look like everybody else?" 
After years of being faced with lackluster clothes in his size (he describes himself as a 2XL tall), Vaughn, who's 48 years old, is now helping those less privileged men find the trendy pieces and styles for perhaps the first time in their lives, launching a new brand called MVP Collections. 
"I was the customer looking for styles that weren't there. I wore the same type of jeans for almost 10 years because I couldn't have any other options," Vaughn said. "That's exactly how the brand started." 
Rather than sticking to outdated silhouettes and fabrics, MVP, which launched in early August, specializes in trendy premium denim in sizes 38 to 50 in various different fits, as well as premium T-shirts in 1XL to 4XL and velour sweats up to 6XL. By doing that, they're tapping into a market of larger men who want trendy, cutting-edge clothes, and maybe want to take risks with their clothes as well. 
That's something that Diane Cutuli, MVP's designer and co-founder with Vaughn, knows is a far cry from other big and tall brands today. 
"For a lot of these brands, it's easier to be safe," Cutuli said in an interview. "No one's willing to make that investment or to take that chance because they don't know if guys are going to respond to the more cutting edge fashion. Every guy wants to be fashionable and I don't think anyone's taken that chance." 
The argument that bigger guys don't want to wear trendier, riskier garments probably sounds awfully familiar, because it's exactly the same argument being used against cute and trendy plus-size clothes for women. Much like how plus-size clothing for women has been stereotyped as unflattering and matronly, big and tall clothes for guys has been known to be more of the place you'd shop for your older relative. 
"A big and tall store feels like you're shopping for your father or uncle," James Carroll, the founder of the big and tall brand Oublier, told Mic back in February.
So what MVP Collections is trying to do is subvert that idea. It's important not only to the male shoppers, but also for the fashion world at large, which has largely ignored bigger guys, much like it's ignored plus-size women, too. 
"I think it's about being visible," Vaughn said. "Look, we've been at it now, realized that there's people who have tried to do what we've done, but we're making it happen. We know it. We understand it. That's why we're gonna have success." 
Vaughn is even putting himself out there for the brand as its most visible spokesman, appearing in a number of campaign shoots for MVP, in which he stands on rooftops in stylish sweats and a denim jacket. 
One of the other many falsities MVP is trying to disprove is the idea that designing for bigger guys or plus-sized guys or big and tall guys or whatever term you may prefer (MVP prefers big and tall), is not that much harder or different than designing for guys who wear size 34 pants. 
"In terms of trend, what I've learned is no, it's not different at all," Cutuli said. "In terms of fit and measurements, yes. Does the guy want a looser fit? Does he want a skinny jean? In terms of measurement and slightly varying in styling, it's a little different. You just want to make sure the fabrics breathe and there's stretch in the jeans. That's it." 
Oh, and if anyone's worried about men not buying up items in size 3XL or higher, know that the the average pant size for men is growing in the United States. So that puts MVP Collections in a very interesting situation, with no real major competitors. Because of this, MVP, which is so far just online, sees itself linking up with major retailers in the next year, making it more accessible than ever. 
So who knows, maybe Mo Vaughn will be the plus-size man's answer to Ashley Graham.