'Pokémon Go' Gen 2 Pokémon may be added as part of a promotion with Sprint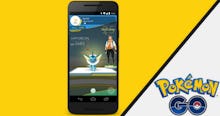 An upcoming Pokémon Go partnership deal will coincide with the introduction of long-awaited new Pokémon to the game, Niantic and Sprint announced in a joint Wednesday morning press conference. 
Though the announcement had been scheduled just before noon, reports about the deal had already broken hours before.
Gen 2 Pokémon could be coming to Pokémon Go as part of the new Sprint promotion
According to CNet, the deal between Niantic and Sprint will create more than 10,000 new PokéStops and gyms located at Sprint, Boost Mobile and Sprint-Radioshack stores. 
John Hanke, CEO of Niantic, teased that some new Pokémon will be emerging on Dec. 12, the day the promotion with Sprint goes into effect. 
It is unclear whether those new Pokémon will be Mew, Mewtwo or the legendary birds from Pokémon Generation 1 that have yet to appear in Pokémon Go, or if the new Pokémon on Dec. 12 might be members of Gen 2.  
"We'll put out more information to explain what's coming," Hanke told CNet. "Not all Pokémon are created equal, and there are different families within the Pokémon universe. We're bringing them out in a logical way."
That mention of "families" could be a reference to the Pokémon in Generation 1 that receive an evolved form in Generation 2, such as Golbat, which evolves into Crobat, or Eevee, which receives new evolved forms in Espeon and Umbreon.
Gen 2 Pokémon: The future of Pokémon Go may lie in branded deals
News about a Starbucks Pokémon Go promotion beginning on Dec. 8 leaked early on Monday evening. The leaked documents make only a vague reference to the emergence of fresh Pokémon, and spend most of their time explaining how to make a new Pokémon Go-themed drink.
The Starbucks deal also involves turning more Starbucks locations into PokéStops or gyms. 
More Pokémon Go hacks, tips and tricks
If you're psyched about UI changes you may also want to check out Mic's Pokémon Go guides. Here's the new top 10 attackers list and the new top 20 rankings following the balance update, guides on post-update Chansey and Rhydon, everything you need to know about finding the long-awaited Pokémon Ditto, creating new PokéStops, how to maximize your chances of catching Pokémon and fresh information about how PokéStops distribute Pokémon eggs.