What is NBC's next live musical? Get ready for Jennifer Lopez in 2017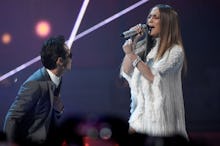 Not quite ready to stop the beat after NBC's Hairspray Live? Jennifer Lopez has you covered.
NBC announced back in October that 2017's live holiday musical will be Bye Bye Birdie, starring Lopez. According to NBC Entertainment's chairman, Bob Greenblatt, Lopez approached the network with the idea.
"She came to us and said, 'I love this movie and I'd love to do it,'" he said during a PaleyFest panel in October.
Bye Bye Birdie, which will be an adaptation of the 1960 Broadway musical (like the 1963 film), tells the story of a small Ohio town thrown for a loop by a rock-and-roll star who aims to romance the women of the town. It is the latest throwback story to be chosen for NBC's live musical event, following Hairspray and 2015's The Wiz.
This will be NBC's fifth such musical. The tradition started in 2013 with The Sound of Music Live starring Carrie Underwood. Bye Bye Birdie's star casting will make the event more similar to Sound of Music than either Hairspray or The Wiz, both of which starred newcomers (Maddie Baillio and Shanice Williams, respectively).
No official date is set for Bye Bye Birdie, but if it follows tradition, it will air in December 2017.