'Crash Bandicoot N. Sane Trilogy' PS4 Price: Here's why it costs $40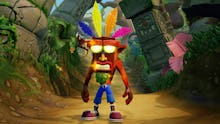 In case you haven't heard, remastered versions of three Crash Bandicoot games — Crash Bandicoot, Crash Bandicoot 2: Cortex Strikes Back and Crash Bandicoot: Warped — are all coming to PS4 in the form of the Crash Bandicoot N. Sane Trilogy. The collection was first revealed at PlayStation Experience through a trailer that shows the new and old versions of the classic platforming franchise side by side.
Crash Bandicoot: N. Sane Trilogy trailer
Gorgeous, right? The N. Sane Trilogy is clearly not just a simple port of an old franchise, but it's hard to parse exactly what work went into it — which might lead you to wonder how much it'll cost.
Crash Bandicoot N. Sane Trilogy price, release date and remaster information
In a press release sent out shortly after the trailer dropped, Activision revealed the N. Sane Trilogy would retail for $39.99 and release sometime in 2017. That's a good chunk less than the typical $60 price for new games, but still a sizable sum for a re-release of a decades-old franchise, which might have led some fans to wonder exactly what the N. Sane Trilogy is. 
Is it just a port of old games with a fresh coat of paint, or a total reboot, like the recently released Ratchet and Clank for PS4?
Answering that question in a blog post on PlayStation's website, Dan Tanguay, game director at Vicarious Visions (the studio handling the remaster), revealed some additional details about exactly what work is going into the N. Sane Trilogy.
Tanguay starts by explaining that the remastered trilogy isn't simply a copy-and-paste situation. He says huge amounts of work went into building the trilogy from the ground up, but that it aims to preserve the feel and structure of the original games, leading Tanguay to call it a "remaster plus" rather than a full-fledged reboot or sequel.
"It's practically impossible to make a traditional remaster of the original Naughty Dog games," Tanguay explained. "They're roughly 20 years old, and technology has advanced significantly in that time. The original code and assets are nearly unusable. Nearly.
"But we don't consider this a remake. We know how much you all love the original games, so we didn't want to fully remake them. The N. Sane Trilogy is a remaster plus."
Tanguay explains Vicarious Visions had to recreate gameplay and levels "from scratch, capturing its simplicity and precision," but then layered in some of its own "lush and zany art, animation and audio."
Vicarious Visions is obviously doing a lot of work to whip Crash into shape for PS4, but it's not quite a brand-new game, which seems to be what led to that middle-of-the-road price.
Crash Bandicoot N. Sane Trilogy: New features
After settling the "is it a reboot?" conversation, Tanguay also revealed some quality-of-life improvements his studio made to the franchise, like the addition of manual saves, auto-saves and a "unified checkpointing" system.
Tanguay ends his post by teasing that there are other improvements his studio made to the franchise, but says he'll share more details "soon."
Whether the N. Sane Trilogy will successfully breathe life into the original games remains to be seen, but so far things look promising.
More video game news, updates, tips and tricks:
Check out Mic's latest video game news, including information about the forthcoming Overwatch holiday event, details on the latest Pokémon Go update, information on The Last of Us Part 2 and details on the characters starring in Uncharted 4: The Lost Legacy.