Free iPhone Apps: Get these apps for free now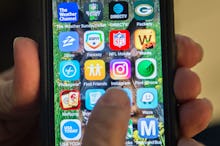 The Apple App Store is full of useful programs to entertain, inform and assist. Some of these apps come at a price, but a good deal of them are completely free. Here are some can't-miss apps you can get for free, right now:
This fun little app lets you create a cartoon avatar that looks just like you. The personalized Bitmojis can then be used in iMessage, Snapchat and other chat programs to express a number of moods or situations.
Apple Music and Spotify are the leaders in music streaming, but to truly reap their benefits, users need to pay a monthly subscription fee. SoundCloud opens up an entire world of music — ad free. And while Soundcloud introduced an optional premium service earlier this year, a number of underground tracks from up-and-coming artists not found on the streaming giants can still be heard here for free.
Have dinner options lined up in any city or neighborhood with the help of Yelp. There's more to the app than that, of course: Bars, coffee shops and an array of useful businesses can be found along with the Yelp community's reviews and tips. The app is a much more user-friendly experience than the mobile web edition. 
Google's simplified version of Skype is ridiculously easy to set up and use. Users merely need to plug in their phone numbers and voila: cross-platform video calling is available through Wi-Fi and cellular data. Best of all, the video quality is quite high, meaning users can avoid the typically grainy video calls present in other apps. 
PayPal and Venmo have long ruled the cash transaction circuit, but Square Cash is another exciting option. Its interface is pleasantly minimal and easy to understand. Just like Venmo, you can link a debit or credit card, but Square Cash allows you cash out the very next day unlike Venmo, which can range anywhere from 2 to 4 days depending on the day of the week. 
For a fun little distraction, try out Archery King — one of the App Store's top mobile games that pits users from all over the world against each other. There are in-app purchases should you become fully invested, but much of the game can be enjoyed for free.
An essential app for any music enthusiast, Shazam scans audibly playing music to identify tracks, artists and lyrics. A collection of your "tags" are stored for you to revisit whenever you get a hankering to hear a song, and those same tracks can then be streamed and saved on the likes of Apple Music, Spotify or Google Play.