What will happen in the 'Arrow' midseason finale? Synopsis, promo for season 5, episode 9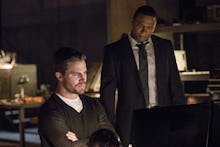 With the CW's massively successful DC crossover behind us, things will be returning back to normal on Arrow with season five, episode nine, titled "What We Leave Behind." Well, as normal as a bunch of costumed heroes with bows and arrows can be. 
The midseason finale will once again pit Team Arrow against this season's big bad, Prometheus. But there's a twist: There's a traitor among Oliver's recruits. We learned towards the latter moments of episode eight that Evelyn Sharp, aka Artemis, is working with Prometheus. 
Rather than slowly building to the confrontation between Sharp and the rest of the team, episode nine, which is also the midseason finale of Arrow, features Oliver and company learning of Artemis' allegiances pretty quickly. This likely sets up an explosive latter half of the season, perhaps forcing the question: Who can you trust?
Check out the synopsis for Arrow's midseason finale, 'What We Leave Behind,' below, via Comic Book: 
Prometheus makes a deadly move against Oliver and the team: After Prometheus attacks Curtis (Echo Kellum), Oliver (Stephen Amell) realizes Prometheus knows all of Team Arrow's secret identities and is planning to come for them one by one. Felicity (Emily Bett Rickards) and Detective Malone (guest star Tyler Ritter) discover a clue that links Prometheus to Oliver's past.
It has long been teased that Prometheus is a product of Oliver Queen's past. This has led to rampant speculation on his identity, including thoughts that he could be someone we have seen before, like Tommy Merlyn or Slade Wilson (though both are unlikely due to the actors' commitments elsewhere). 
Cinema Blend reported several months ago that Arrow executive producer Wendy Mericle had this to say about Prometheus' connection to Oliver Queen: 
It does tie back to season one. I will tell you that it's going to be a shock to Oliver to find out who this guy is and what his backstory is. We really wanted Oliver (Stephen Amell) to have to reflect on who he was when he came back from the island. Specifically, also what legacy his father had left — his original mission. The thing he says when he comes back is "I want to right my father's wrongs."
It will certainly be interesting to see what type of clues Felicity and Detective Malone discover linking Prometheus to Oliver. While it would seem unlikely that Prometheus' identity would be revealed this early in the season, The Flash did recently reveal Alchemy to be Julian Albert, so who knows?
The midseason finale airs Wednesday, Dec. 7 at 8 p.m. Eastern on the CW. 
Not yet excited for Arrow's midseason finale? Check out the promo below: