7 moving photos of veterans and Standing Rock elders who united at forgiveness ceremony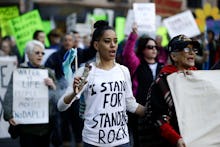 It was an emotional and tearful night on Monday.
Native Americans held a forgiveness ceremony at the Standing Rock casino for U.S. veterans who have been standing in solidarity with the movement to block construction of the Dakota Access Pipeline.
The ceremony, with over 500 people in attendance, resulted in Native American elders forgiving veterans for hundreds of years of oppression.
One veteran stood out from the rest. Wesley Clark Jr., the son of a former NATO supreme commander and retired U.S. Army general, spoke to the group of veterans to atone for the U.S. military's treatment of indigenous people, Salon reported.
Here are Clark Jr.'s remarks:
Many of us, me particularly, are from the units that have hurt you over the many years. We came. We fought you. We took your land. We signed treaties that we broke. We stole minerals from your sacred hills. We blasted the faces of our presidents onto your sacred mountain. When we took still more land and then we took your children and then we tried to make your language and we tried to eliminate your language that God gave you, and the creator gave you. We didn't respect you, we polluted your Earth, we've hurt you in so many ways but we've come to say that we are sorry. We are at your service and we beg for your forgiveness.
Chief Leonard Crow Dog, a spiritual leader for the Lakota tribe, ceremoniously forgave Clark Jr. In addition to calling for world peace, Leonard Crow Dog insisted they were indebted to the land.
"We do not own the land, the land owns us."
Here are photos capturing the beautiful and historic gesture: