Harvard University President Drew Faust says school won't be a sanctuary campus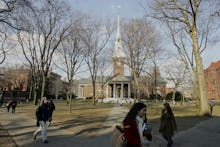 Students and professors at Harvard University have lobbied for the school to declare itself a sanctuary campus since the Donald Trump won the presidential election, fearing he would make good on his myriad xenophobic promises.
On Tuesday, Drew G. Faust, president of Harvard University, announced the school has chosen not to label itself a sanctuary, which would have hypothetically prevented the deportation of undocumented students, according to the Harvard Crimson. She reasoned that, because doing so would offer no legal protections, it could increase government scrutiny of students in need of protection.
"It ... risks drawing special attention to the students in ways that could put their status in greater jeopardy," Faust said. "I believe it would endanger, rather than protect, our students, and that is not something I am willing for this institution to do."
"Sanctuary campus status has no legal significance or even clear definition," she added. "It offers no actual protection to our students. I worry that in fact it offers false and misleading assurance."
Indeed, a clear definition for "sanctuary campus" doesn't really exist. Based on the concept of a sanctuary city, which attempts to shield undocumented immigrants from deportation, sanctuary campuses would theoretically offer protections to undocumented students. What those might be and how schools could achieve them remains hazy. 
As the Washington Post reported, faculty members and students at Harvard had pushed for the school to adopt the designation after the election, petitioning the administration to take "concrete actions" in support of its roughly 40 undocumented students. Among the steps enumerated were hiring staffers whose job it would be to help those in danger of deportation, and starting a fund to ease the burden of legal costs.
Faust announced that Harvard would stop short of adopting the sanctuary city label at a Faculty of Arts and Sciences meeting, after being asked how the school planned to help groups the president-elect has targeted in his speeches. A particular fear is that he will do away with the Deferred Action for Childhood Arrivals program President Barack Obama's administration adopted in 2012. Trump has reiterated his plan to immediately find and deport between 2 and 3 million undocumented immigrants since winning the election, suggesting that this will not turn out to be an empty campaign promise. 
According to the Crimson, some of Harvard's professors argued that the label would communicate the school's unequivocal support of its students and was therefore important to adopt.
At the meeting, history professor Walter Johnson spoke in favor of the designation: "Given the importance of the word 'sanctuary' in the national discussion, the opportunity that Harvard has to take up moral leadership in that discussion, and the immense importance of the word to our students, [most] specifically to their sense that the University is willing to stand ... by their side, why not use it?"
Harvard is not the only Ivy League school to wrestle with the sanctuary campus question. Students at Yale University have also pushed the school to adopt the status, while Brown and Princeton have declined to do so. Columbia University and Trump's alma mater, the University of Pennsylvania, meanwhile, have both declared their campuses sanctuaries. 
Harvard did not return requests for comment.