Grammys 2017: Chance the Rapper's best new artist win will say volumes about rap's future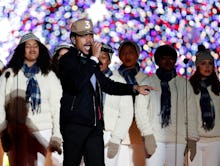 Chance the Rapper did a good-ass job with 2016, and the Grammys took note. When the academy announced their 2017 nominations Tuesday, the up-and-coming Chicago MC came up with seven, putting him just behind the industry's longstanding elites for most nominations: Beyoncé, Rihanna, Drake and Kanye West. His most eye-catching nod came in one of the big four categories — best new artist — a huge nomination considering that, up until July, it looked like Chance the Rapper wouldn't been in the running for at all.
This summer, petition pressure encouraged the Grammy voting committee to change their standards to allow mixtapes and free offerings never physically sold, like Chance the Rapper's Coloring Book, to be considered for the academy's top prizes. The move made the present spread possible. Chance could win as many as five gramophones and cement a place in hip-hop history without ever joining a label, without ever releasing a proper physical studio or radio release.
It's hard to understate just how revolutionary this could be. Few other artists today come with stronger and more radical missions attached to their music than Chance. Seeing that mission recognized at the highest levels of the industry apparatus cold be truly game-changing.
Why Chance the Rapper's nomination is a big deal
For years, the benchmark goal for hip-hop glory was the record deal and the first paycheck it offered. It's still the goal of many, but Chance has helped clear away the brush covering the road less traveled: independence.
Ever since forcing his goofy grin into music's limelight with his breakout mixtape Acid Rap in 2013, Chance has been an outspoken advocate for artistic independence, creative empowerment and making music accessible to the people who need it most.
"It's a dead industry," Chance told Rolling Stone in 2013, arguing there was "no reason" to sign — except sales, radio promotion, Grammy attention, marketing and a hundred other objections that many insiders had at the time. But Chance the Rapper has proved one can make their own way with integrity and a new spin on hip-hop's cultural mores. His win could serve as a vindication for all the world's struggling artists determined to remain their own bosses, who see music as not just a career, but a vehicle to change culture.
So much of what Chance has done artistically has been geared toward turning rap's attention away from the glamour and tabloid celebrity and back toward some of hip-hop's original, now-overlooked values: spirituality, unity, wisdom and having fun, to quote some of the Universal Zulu Nation's still fundamental hip-hop tenets.
Coloring Book broke down the emcee's relationship with God, his family and his city in language profound to close-reading children and grown heads alike. He set his maxims over a swirling mixture of gospel, hip-hop and juke-heavy dance music that brought out the best in every one of its featured guests, many of whom likely had to fight with their labels to get a spot.
Additionally, Chance has given back, framing his music in revolutionary new contexts to help highlight the artform's power to unite and generate political movement. His #SaveChicago drive led Chance to hold an open mic series and several free concerts for young Chicago youth, and his Warmest Winter project helped provide over 1,000 sleeping bag coats for Chicago's homeless. He organized a stunning voting march, which helped break early voting records in Chicago. His activism and advocacy has been just as artistically inspired as his music.
This is how he's gotten his name out to the people who need to hear it, and it's arguably been far more effective than the traditional industry press blitz. Obviously, Apple Music helped Chance garner industry attention in a big way, hosting his Coloring Book as an exclusive for a week before it hit Spotify. However, looking at the way it's spread since that contract relaxed, with Chance marshaling fans to get his singles played on the radio, it began to feel like the independent release he'd always touted it to be.
"It's not about the music being free," Chance explained to Billboard. "It's about how it is displayed and made accessible and about artistic power. It was always about the artist-to-fan relationship."
Said another way: "I don't release my music for free, I release it for freedom," as Chance rapped on "Blessings."
He's already raising a crop of disciples: Artists from Shawn Mendes to Saba to Joey Purp have all named Chance the Rapper as inspiration. Seeing the Chicago artist mount the Grammy stage in a 3 or Sox cap to bring home gold will likely earn him many more, something that would renew the music industry's commitment to honor quality over sales potential.
The Grammys nominees has already largely spread this message. The LA Times characterized it as being a sign the awards are finally looking to recognize "innovation over tradition, the future over the past." Honoring Chance's work seems an excellent way to break the system that's kept the Grammys feeling like a one-note rehashing of radio hit-lists decade in and decade out.
Anyone who's at all engaged with music knows there's more out there besides the Chainsmokers and their Fetty Wap rip-offs. Chance embodies the possibility that artists of all creative bents will one day have access to all the same mass channels as those more game to bow to recording industry money and trends. Imagine what the next generation will be able to build on the landscape handed them, when the culture has two visible Chance the Rapper-minded artists, or three, or an industry-full. The revolution will be televised on February 12, 1017.
Mic has ongoing music and Grammy coverage. Please follow our main music and Grammy hubs.