'Passengers' Reviews: Should you go see the new Jennifer Lawrence and Chris Pratt movie?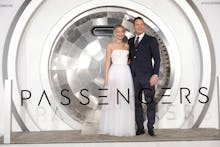 The critics have seen Passengers and it looks like the big-budget Jennifer Lawrence and Chris Pratt sci-fi movie is on course for a major collision.
As the review embargo lifted on Thursday, negative reactions from critics started to flood the Internet. In Passengers, Pratt and Lawrence wake from their hibernation pods while on a 120-year journey. They've woken too early and the ship begins to malfunction, leaving these two Hollywood stars to save themselves and the ship. 
Based on the screenplay by Jon Spaihts, who wrote the script for Doctor Strange and Prometheus, and directed by Morten Tyldum, who directed The Imitation Game, the press tour for Passengers has been anything put smooth sailing. Lawrence recently came under fire for laughing while telling a story about desecrating native land in Hawaii during filming, and now the reviews are calling the movie a mess.
Critics are not being kind to it, declaring it a flat out "disaster," more creepy than romantic and revealing it has an incredibly "underwhelming finale." 
It's worse than expected.
Some critics didn't totally hate it.
The reviews aren't helping others get excited to see the movie.
At least Pratt and Lawrence have good chemistry?
It looks like the movie is problematic too.
This tweet really sums it up.
We'll have to wait and see if the negative reviews influence the film's box office performance. The movie is expected to take in $50 million over the five-day holiday stretch, but now that's uncertain. 
You can see for yourself when Passengers opens Wednesday, Dec. 21 in theaters nationwide. 
Dec. 19, 2016, 12:29 p.m.: This story has been updated.