'Super Mario Run' Android Release Date: How it could affect the Nintendo game's success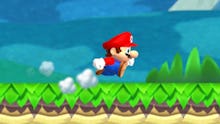 Super Mario Run's release date on iOS devices is Dec. 15, but Android users will have to wait a bit longer. 
Nintendo's first app for mobile, Miitomo, already made its way to Android and iOS back in March, as did the summer phenomenon Pokémon Go. With Nintendo's first Mario game for a smartphone, however, the company is taking a different approach: platform exclusivity. 
It's just one element that's likely to turn Super Mario Run into a major global hit.
The Super Mario Run Android release date is after iOS — so what?
Basically, by making the $9.99 Super Mario Run available on iOS first, Nintendo could be splitting its profits in half, if not more. 
Android handsets make up more than half of total smartphones worldwide. Even if iOS users are more likely to purchase apps, we've seen how Nintendo nostalgia gets phone owners to open up their wallets. An admission price of $9.99 may be high for most games, but plenty of Nintendo fans of any creed — iOS or Android — would likely pay to play. 
The release of Super Mario Run on the iPhone could further hurt Android. According to Emily Greer of Kongregate, more exclusivity deals like this in apps could lead people to change platforms for their favorite games. While smartphone owners use their phones for much more than games, game-type apps take make 85% of all mobile app revenue.
Could Super Mario Run be bigger than Pokémon Go? 
Few can deny Pokémon Go's popularity last summer. Even as it waned, the game still generates $2 million in revenue daily. But there's a chance that Super Mario Run, whose nostalgia appeal is the same, could end up bigger than the Pokémon title.
The site App Annie points out that Nintendo is doing a lot of things right with the launch of Super Mario Run: a high-profile debut and a close relationship with Apple to make sure the game was promoted properly on the App Store. With Super Mario Run, Apple debuted its Notify feature, which tells users when an app is available: yet another way Super Mario Run could make money for both Nintendo and Apple.
As the first Mario game to ever make its way to mobile, its pent-up demand from fans is surely going to be substantial.
How long is Super Mario Run's iOS exclusivity period?
There's no official word on how long Nintendo's exclusivity period with Apple will last, though we might find a clue in other Apple third-party deals: When HBO first released HBO Now — the HBO Go counterpart that doesn't require a cable subscription — it was an Apple exclusive. That exclusivity deal lasted three months. 
While the timeline remains unclear, a possible March release of Super Mario Run on Android would align nicely with the Japanese gaming company's launch of the Nintendo Switch that same month. Only Apple and Nintendo know for certain exactly when Super Mario will be running to Android, but stay tuned to Mic for more details as they emerge.