Marvel gift guide 2016: Ideas for fans of 'Iron Man,' 'Doctor Strange' and more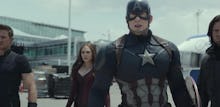 It is that time of year again. The snow is falling (well, should be soon), the lights are going up and shopping malls are packed with everyone looking for the perfect gift. It's the holidays!
So what is that perfect gift? Jewelry may be the way to go if you are shopping for a significant other. Maybe you buy a power tool for that masculine guy you know. A big screen television is always a welcome addition to any sports fans home. Harry Potter fans can look forward to all kinds of odd memorabilia. 
But what about the comic book fan in your life? What are the perfect gifts for someone who would rather watch Tony Stark battle Ultron than the Giants play the Cowboys? Well, if you are shopping for that special Marvel fan, we have a few gifts you should consider.
(Editor's note: Prices and product availability are subject to change throughout the holidays.)
Tony Stark battling Ultron was so 2015. The latest major showdown in the Marvel Cinematic Universe was Iron Man versus Captain America. In one of Marvel's biggest movies yet, Captain America: Civil War, the two allies are at odds over the recent signing of the Sokovia Accords. 
The film earned a stellar 90% on Rotten Tomatoes and went on to earn a pretty penny at the worldwide box office — $1.15 billion to be exact (that's a lot of pennies). Whether you have seen the movie yet or not, Captain America: Civil War is a must own for any fan of Marvel's films. 
What about for that younger Marvel fan? Toys may be the best way to go. And Marvel has no shortage of great toys for children on their website. If you are looking to stay relevant, and show your child you understand the current state of Marvel in film, go for a Doctor Strange toy. 
The latest installment in the MCU is Doctor Strange. A mind-bending cinematic experience garnered the film an exceptional 91% on Rotten Tomatoes, and, as of this writing, over $636 million worldwide. 
Marvel offers plenty of other toy options featuring characters like Daredevil, Captain Marvel and Captain America.
How about that Marvel fan who is looking to make a political statement? It is no secret that the 2016 presidential election is one that left much of the country disappointed. And if you are looking to throw your support behind someone in 2020, look no further than the most patriotic comic book character ever.
TEEPUBLIC is offering T-Shirts supporting the 2020 political campaign of Captain Steve Rogers and his long-time buddy, Bucky Barnes. Sure, fictional characters may be a long shot to hold office, but that doesn't make the shirt any less fun.
It would be blasphemy to have a Marvel holiday gift guide that does not include a comic. Marvel's history goes back over seventy years, so it is tough narrowing down the comic that would make the best gift this holiday season. How about the Wolverine: Old Man Logan collected edition?
In just a few months, Hugh Jackman will be starring as Wolverine for the last time in Logan. While not a direct adaptation of the Old Man Logan story arc, Logan will be borrowing many elements from that story. So, before you head out to see Jackman claw-up for the last time, grab a copy of the story that inspired the film. You will not regret it. 
Do you know someone who still has not sprung for Netflix? Seems a bit far fetched, but those people still do exist. If you are (or know someone who is) a Marvel fan without Netflix, that needs to change. Marvel has teamed with Netflix to deliver some of the best episodic comic book adaptations to date. 
Currently streaming on the platform are shows like Daredevil (seasons one and two), Jessica Jones and Luke Cage. Iron Fist will be dropping in just a few months, with The Punisher and The Defenders following shortly after. What are you waiting for?
So, you're a working professional. You work in an office all day, but still want to proudly show off your comic book fandom. Well, Marvel has a gift for you.
The Spider-Man tie is 100% silk and is sure to go with whatever webbing you have. And in grey, it should go nicely with whatever suit and shirt you plan to wear. So, let your colleagues know you loved that Spider-Man: Homecoming trailer by purchasing a Spidey-themed tie.
Just a few weeks ago, it was announced that ABC will be bringing a new Marvel series to television: Marvel's The Inhumans. Fans of Marvel television are already familiar with the Inhumans, as they have played a central role on the last few seasons of Agents of S.H.I.E.L.D. But the new series, set for a 2017 premiere in IMAX, will focus on the Inhuman Royal Family. 
The Inhumans are powered beings much like another Marvel race, Mutants. Since Marvel does not own the film rights to the X-Men series (they are over at Fox), it has been no secret that they have been trying to build up the Inhumans popularity among fans. 
If you are looking to learn more about the Inhumans prior to the release of the new television show, Inhumans by Paul Jenkins and Jae Lee is the best place to start. The book series won a Will Eisner Award for Best New Series in 1999, and is the perfect start for anyone looking to learn more about the powered race. 
OK, admittedly this one is a bit pricey, but this hot piece of tech is something Tony Stark would probably own (and that's cool). While the Oculus Rift Headset may be a luxury purchase, for those with the means, it is a great own, especially as more content is released. Can you imagine fully immersive comic book movies on this thing?
There are quite a few things on this list that would be best enjoyed on a big screen television (even if you're not a sports fan). If you go buy that Netflix gift card, or perhaps, Captain America: Civil War, you'll need a great television. The Vizio D65u-D2 65" Smart TV is a great choice for the price. 
PC Magazine gives the Vizio television an excellent rating, and has named it an Editor's Choice for 2016. The site's bottom line: "Vizio's Du series offers surprisingly good performance at a reasonable price, making it a good option if you're in the market for your first 4K television."
Do you drink beer like Thor, but keep leaving rings on your wood table? Time to invest in coasters. But not just any coaster, pick one featuring your favorite comic book hero. Even for those not of age, you don't want your sodas leaving marks on your parents' fancy table. Use a coaster!
This may not be so much a gift as it is advice. Have you never been to Comic-Con? Do you know someone who loves comics and wants to be immersed in an experience like no other? Sign them up for a Member ID. Badges will not go on sale until 2017, but Member ID's get snatched up quickly. Do not miss out on all the fun. When the badges do go on sale, daily passes usually range from $40 to $55 for adults, and $20 to $27 for children (children under 12 are free). 
Have fun shopping!
This month, Mic Essentials brings you handpicked deals, reviews, recommendations and gift ideas. For more ideas, see our lists for Tech, Harry Potter fans, books and lovers of all things Game of Thrones. If you buy something through a link on this page, Mic may earn a small commission.