12 Secret Santa gift ideas for every type of co-worker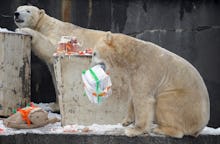 The obligatory office secret Santa — you know it comes ever year, yet it somehow still catches you off guard. Fret no more. All of the gifts below will make any co-worker's office life a little better, no matter if it's your best friend, direct supervisor or your office frenemy.
Editor's note: Prices and product availability are subject to change throughout the holidays. 
For the office sweet tooth
The Unzipped Glass Zipper Bag ($16.50) looks like a typical Ziplock bag, but it's really a glass vase, ready to hold any sweet the office snacker should ever want.
For the office black thumb
The Mason Jar Indoor Flower Garden ($20) grows edible pansies easily (without ever using soil), which makes it perfect for any co-worker who A) always ends up killing the plants on their desk, B) needs to get outside more and C) should probably eat more greens.
For the person who always has an idea to pitch
So you drew the person who's always trying to show everybody in the room their latest idea as your secret Santa. Give 'em the old Smartphone Projector 2.0 ($23), which will project their smartphone screen on a wall up to 8 times its size, such as a powerpoint presentation, or the last episode of Westworld.
For the office stress ball
Perfect for anybody who's always stressed, anxious, raging mad or under constant deadlines, these human-faced stress balls ($9) will provide therapy.
For the person whose eyes are legit glued to their screen
Anybody who could use a screen break will thank you for these prescription-free, stylish Stanford frames from Eye Buy Direct ($41) that feature blue light filter to balance out the blue light that emits from digital screens. Just make sure your giftee doesn't regularly wear specs to the office.
For the guy who's always asking you to open his beer
Ted asks you for the beer opener at 5 o'clock every Thursday. Get him this Luchador bottle opener from Kikkerland ($8) so he'll have fun opening his own beer for a change. Enjoy, Ted.
For the overnighter
The person who works the graveyard shift misses out on a lot of daylight. Help them out with the HappyLight Portable Light Therapy Energy Lamp ($38.95), which simulates natural light and claims to improve your circadian rhythm.
For the person whose headphones are louder than most computer speakers
There is little more annoying than having your neighbor's headphones play music that the whole room can hear. Thankfully, Urbanears Plattan ($49) are comfortable, the sound is incredible and the hand-free microphone makes taking calls a breeze. But most importantly, they're quiet, which means they're an especially great choice if your neighbor's headphones bleed sound all over your concentration.
For the coffee and correcting addict
Kathy Weller's coffee cup ($16) is the best retort for anybody in your office who drinks as much coffee or tea as they do spending time silently judging your life choice of writing emails in all lowercase letters.
For the person who never knows where their laptop is
We understand: Every Macbook looks the same, so it's not surprising if so-and-so confuses your laptop with theirs for the ninth time this week. Since the best advice for this person is to put stickers all over their work computer, we recommend this stylish laptop skin ($23) from Lauren By Design to set it above the rest.
For the office swagster
If you work in an office that has a strict dress code (or even if you don't), chances are there's a someone who'd appreciate a little, subtle personalization: A set of these cufflinks, from Etsy shop Celebrate Today, are customized with an engraving ($35). Plus they look way more expensive than they are. 
For the "Is it cold in here?" desk mate
If you work in a cold office, which is all of them everywhere, get your secret Santa something that will keep their body temperature at a survivable level without looking like they just descended Everest's summit. A blanket scarf from Ella Winston's Etsy shop ($20-26) can be worn around the neck, as a shawl, or stylishly draped over the head should the wearer feel like doing so on a particular hungover Monday morning. Even better, it can personalized with a monogram.
This month, Mic Essentials brings you handpicked deals, reviews, recommendations and gift ideas. For more ideas, see our lists for gifts for badass feminists, awesome health and fitness goodies and jewelry. If you buy something through a link on this page, Mic may earn a small commission.