'Spider-Man Homecoming' first teaser revealed: 5 key things we know so far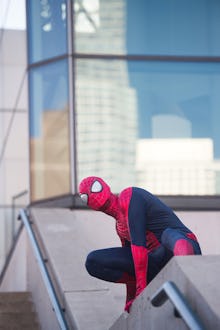 Spider-Man Homecoming won't hit theaters for another seven months, but Marvel has started to pull back the curtain on the web slinger. According to a tweet from Marvel, the film's first trailer is set to debut at 11:35 p.m. Eastern on Thursday during Jimmy Kimmel Live! and we just got our first teaser for it.
The clip may only be 17 seconds, but it packs a lot of information if you look closely. While details on the plot of Spider-Man Homecoming have been scant, here's what we've pieced together based the information released so far.
What is the story of Spider-Man Homecoming?
Marvel and Sony revealed in June 2015 that 19-year-old British actor Tom Holland would play the new iteration of Peter Parker. Holland is best known for his role as the son of Ewan McGregor and Naomi Watts in The Impossible and for his part alongside Chris Hemsworth in the film In the Heart of the Sea.
Holland made his electrifying debut as Spider-Man in Captain America: Civil War in May. In the Marvel movie, Tony Stark/Iron Man recruits Parker to help fight Captain America in their disagreement over whether superheroes should be forced to register with the government. In exchange, Stark provided Parker with his Spidey suit. Spider-Man played a prominent and memorable part in the Leipzig/Halle Airport battle.
In Civil War, we learn Parker has had his abilities, web shooters and has been fighting crime in New York for several months. Indeed, it has been confirmed that Spider-Man Homecoming will not tell Parker's origin story, making it the first new iteration of Spider-Man on film not to go through those motions. 
Spider-Man Homecoming will focus on Parker's life as a 15-year-old high school student and will be primarily set in the walls of high school. After revealing footage at a San Diego Comic-Con panel in July, director Jon Watts called the movie "a straight-up high school movie." The cast and crew also compared it to a John Hughes movie. So if you're looking for Ferris Bueller or The Breakfast Club with superpowers, you might be in luck.
"This is the ground level of the Marvel Universe," Watts said at the panel. "We know what it's like to be a playboy billionaire... a Norse God... and now we'll know what it's like to have just gone through puberty."
What villains appear in Spider-Man Homecoming?
This is, of course, still a superhero movie so there will be bad guys. Michael Keaton will be playing Adrian Toomes aka Vulture. Sony revealed the first look at Vulture through concept art at Comic-Con. According to Cinema Blend, Adrian Toomes is an engineer who, after losing his job, builds a flying exoskeleton suit, noting that the suit in the artwork is much more advanced than what we've seen in the comics.
Bokeem Woodbine and Logan Marshall-Green will also be playing villains in the movie. According to the Independent, Woodbine is confirmed to be playing Herman Schultz, also known as Shocker; leaked set photos seem to reveal as much. According to the Hollywood Reporter, Marshall-Green's character has yet to be revealed.
Who is Zendaya playing in Spider-Man Homecoming?
There has been some controversy over Zendaya's role in the movie. As Mic reported in August, Zendaya will be playing the well-known role of Mary Jane Watson. Zendaya will be the first black actress to play the character onscreen, which led to a racist backlash from some fans. 
Parker's home and high school world has been stacked with plenty of familiar faces. Marisa Tomei will play Aunt May, whose casting also stirred controversy as some claimed the actress was too young to play the part. Martin Starr, Donald Glover, Hannibal Buress and Kenneth Choi are also set to appear in the film.
How is Spider-Man Homecoming connected to other Marvel movies?
Spider-Man's story so far in the Marvel Cinematic Universe has been most tied to Iron Man. In addition to Stark and Parker's relationship in Civil War, the new trailer teaser prominently features Jon Favreau as Happy Hogan. Hogan is Stark's employee and has appeared in every Iron Man movie. 
In the trailer tease, we see Hogan give Parker another suit upgrade. This time it's web wings. According to the website Comic Book, web wings were a major feature of Spider-Man's costume in the early days, but were eventually phased out.
When is Spider-Man Homecoming's release date?
Spider-Man Homecoming is set to be released in theaters nationwide on July 7, 2017, exactly seven months from now. The film was written by Jonathan Goldstein and John Francis Daley. The first full trailer will be released online Thursday evening after it airs during Jimmy Kimmel Live! at 11:35 p.m. Eastern.
Mic has ongoing coverage of Spider-Man Homecoming. Please follow our main Spider-Man hub.