Trump hints at a change of heart regarding DREAMers, young undocumented immigrants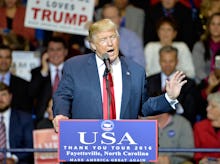 Despite months of campaigning on promises to deport millions of undocumented immigrants and end Barack Obama's Deferred Action for Childhood Arrivals Program — which was enacted through executive action and allows young, undocumented people who were brought to the U.S. as children to work legally — President-elect Donald Trump hinted during an interview with Time on Wednesday that there might be hope for so-called DREAMers after all.
"We're going to work something out that's going to make people happy and proud," Trump said in an interview for the magazine's cover story in which he was named Person of the Year. "They got brought here at a very young age, they've worked here, they've gone to school here. Some were good students. Some have wonderful jobs. And they're in never-never land because they don't know what's going to happen."
According to Politico, around 740,000 young people have benefitted from DACA, which allows them to apply for deferral of deportation and get work permits. A 2015 Center for American Progress survey found that DACA was "significantly improving the lives of recipients" by making it possible for them to pursue more educational opportunities, apply for driver's licenses, purchase cars and get jobs that better suit their skills.
Trump's victory has been frightening for many people who benefit from DACA — such as 26-year-old Ivy, the only undocumented person in her immediate family. Shortly after the election, Ivy told Elle magazine, "I know that the sun still rises. But when I think about all the plans I've made, everything I intended for my future, it feels so insignificant now. ... I'm scared to death I'm going to be deported."
Trump's comments to Time may offer some small bit of hope to young people like Ivy. But, as with many of Trump's policies, his actions speak far louder than his words. Further, Trump's choice for attorney general, Alabama Sen. Jeff Sessions, has expressed opposition to any path to legal citizenship for undocumented immigrants, as well as support for Donald Trump's proposal to build a wall on the U.S.-Mexico border, the Washington Post reported.
So for now, while Trump offers only hints at what his coming administration might mean for DREAMers, hundreds of thousands of futures hang in the balance.