Nintendo Switch Games List: GameCube backward compatibility could help fill out the lineup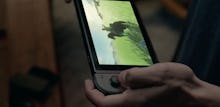 The list of Nintendo Switch games available at launch will dictate how necessary it'll be to buy the console on day one. This not only includes confirmed Nintendo Switch games like The Legend of Zelda: Breath of the Wild and an upcoming Dragon Quest game from Square Enix, but legacy titles playable via backward compatibility. The latest report from Eurogamer is great news, then — it suggests we might see GameCube games on the Switch.
Nintendo Switch Games List: Will backward compatibility include GameCube games?
Judging by the trailer alone, it's clear that the Nintendo Switch won't support physical media from the Wii U or 3DS. Unlike the 3DS that lets you plug in DS games and the Wii U that allows you to insert Wii game discs, the Switch won't be able to make use of your current-generation games. But then, of course, there's the Virtual Console...
The Nintendo Virtual Console currently allows 3DS and Wii U owners to buy old games on their new console via the eShop — ranging from NES all the way up to Wii titles. From a profit standpoint, it makes sense that Nintendo would bring this system to the Switch. With Eurogamer's latest report, it seems GameCube titles will be among the many vintage games available on the Nintendo Switch. Additionally, Pokémon could even make its way to the Switch.
According to the publication, "GameCube support is already tested and working, we understand, and three Nintendo games have already been prepped for Switch." 
The list of GameCube games ready to make the leap to Nintendo Switch includes Super Mario Sunshine, Luigi's Mansion and Super Smash Bros. Melee, according to Eurogamer. Nintendo reportedly plans to start working on the GameCube version of Animal Crossing next.
Nintendo Switch Games List: What other titles are coming?
The full Nintendo Switch launch game list is unknown, but we do know some titles that will come to the convertible console. 
According to IGN, Switch buyers can look forward to playing The Legend of Zelda: Breath of the Wild, Just Dance 2017, Dragon Quest X, Dragon Quest XI, Sonic and an untitled Steamworld game, along with Switch versions of Mario Kart and Splatoon. It's not yet clear if these will launch with the Nintendo Switch in March 2017.
But with the option of Virtual Console titles, we could see the list of Nintendo Switch-supported games increase greatly. With three months to go before the Nintendo Switch makes its official debut — and a press briefing coming even sooner in January — we won't have to wait long for more details.