'Game of Thrones' gift guide 2016: Essential gifts for the ultimate Westerosi fan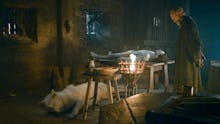 The Starks have been warning us for years. "Winter is coming" — it's finally coming to Westeros — and in 2016 we may as well be facing a horde of White Walkers in President-elect Donald Trump and his terrifying cabinet picks. But the Game of Thrones fans in our lives still have a welcome respite from our daily meandering in Trump's America: a fantastical world filled with fire-breathing dragons, ice zombies, sassy old women and murderous pre-teens. Yep, that sounds much better. 
Heading into the holidays, then, there's plenty of Game of Thrones-themed merchandise for the Westerosi fans in your life. The HBO series is a cultural phenomenon, after all, meaning you're bound to find a variety of gifts related to the show. 
Here's seven recommendations for the holidays that will have Game of Thrones gift buyers covered. 
HBO-licensed sweaters, because Winter Is Coming 
This is a simple one: It's getting cold, because winter isn't just "coming" to most parts of the world — it's here. Snuggling up with some Game of Thrones sweaters is a warm reprieve, and you have plenty of options to sift through on HBO's online store. For example, you can choose a plethora of sweaters designated by houses. So whether you're a Stark, Lannister or even a House Greyjoy fan, there's something for you. 
Take this House Lannister sweater, available for $49.95. If the HBO store is out of a certain house's apparel, there's plenty of options on Amazon as well. 
Ommegang's Game of Thrones-themed beer
The Dornish may be famous for their wine, but a brewery in upstate New York might've already staked claim to the best Game of Thrones beer. Brewery Ommegang has a plethora of Thrones-themed ales, the descriptions of which you can find on their website. The latest batch is their Valar Dohaeris and Valar Morghulis beers that are conveniently sold together along with a Thrones beer glass. 
To find out where you can find Ommegang's Thrones beers in your area, you can use the brewery's online beer finder — as for that Valar Dohaeris and Valar Morghulis gift set, it's being sold for $22.99. 
George R.R. Martin leggings (yes, you read that right)
Want to find new ways to express your gratitude to A Song of Ice and Fire author George R.R. Martin, who could probably use some love from his fans after delaying the sixth book in the series several times? Put that man's face on your newest pair of leggings. You can seriously buy yourself some Martin leggings — with Martin's face all over them — and while it doesn't necessarily have Martin's stamp of approval, he is aware they exist. 
"Every time I think my life could not possibly get any weirder, it does," Martin wrote about the leggings on his personal blog. We agree, George. They're currently selling for $80. 
The official Game of Thrones cookbook, A Feast of Ice and Fire
Anyone who's read Martin's books knows about the meticulous details the author goes into when describing Westeros, especially when it pertains to food. Even Martin's descriptions of pigeon pie at the ill-fated Red Wedding were genuinely distracting up until Robb Stark was, you know, murdered. So it's only fitting that the official Game of Thrones cookbook, A Feast of Ice and Fire, covers all the bases. 
It's not from Martin himself (though he did provide an introduction), but rather from bloggers Chelsea Monroe-Cassel and Sariann Lehrer, who created their own Thrones-themed food blog prior to the cookbook's release. With it, you can try your hand at anything from mulled wine to meat pies and lemon cakes (Sansa's favorite!). A Feast of Ice and Fire is available via the HBO store for $35. 
The Game of Thrones board game to ruin your close friendships 
Speaking from experience, the greatest way to test the bonds of friendship is with the Game of Thrones board game. The game — which requires at least three players — has players assume the role of one of the series' great houses, and the endgame is to collect as many castles in the span of 10 turns. 
Ten turns doesn't sound like much, but it will take roughly two to four hours (closer to four for the contemplative). It also provides ample opportunity to form in-game alliances, which, by the game's end, will almost certainly be broken in disastrous fashion. If you don't mind finding new friends and creating lifelong enemies, it's worth checking out, and is currently on sale for $50.98 on Amazon. 
A true-to-size Iron Throne replica, if you're a wealthy socialite 
Once upon a time, HBO offered lifesize replicas of the Iron Throne for a measly cost of $30,000. But after struggling to find a buyer for their replicas — though apparently some people were close! — the Iron Throne is currently off the market, at least as far as HBO is concerned. 
However, if you're wealthy enough to think to yourself, "This is a gift I can reasonably purchase," well kudos to you, and there's still a place you can get one. An Etsy seller, PrettyHateMachining, is currently selling a replica made of steel for just north of $1,500, which, compared to HBO, is a bargain. We can't guarantee it'll be comfortable, however, because the Iron Throne's never looked comfy. It's more of a status symbol, anyway.  
OK, also season six on DVD and Blu-Ray
If you want to be unoriginal, then fine. You can buy Game of Thrones season six on DVD and Blu-Ray on sale for $46.38 and $57.32, respectively, at HBO's online store. But try a little harder next year. 
Mic has ongoing Game of Thrones coverage. You can follow our main Game of Thrones hub here.