Amy Schumer had the best response to critics of her casting in the 'Barbie' movie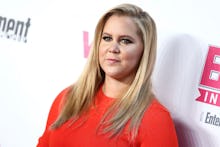 After a surge of online criticisms about her casting as Barbie for the upcoming film Barbie, Amy Schumer posted a lengthy response on Instagram defending her choice and saying the "trolls" have demonstrated that she is the right choice for the part. 
Critics attacked Schumer for her weight, saying she's too heavy to play the doll who has long been known for her unrealistically-small physical proportions. 
Schumer took to Instagram, writing:
"Very very honored to be nominated for 2 Grammys and to be considered to play an important and evolving icon. Is it fat shaming if you know you're not fat and have zero shame in your game? I don't think so. I am strong and proud of how I live my life and say what I mean and fight for what I believe in and I have a blast doing it with the people I love. Where's the shame? It's not there. It's an illusion. When I look in the mirror I know who I am. Im a great friend, sister, daughter and girlfriend. I'm a badass comic headlining arenas all over the world and making tv and movies and writing books where I lay it all out there and I'm fearless like you can be. Thanks to everyone for the kind words and support and again my deepest sympathy goes out to the trolls who are in more pain than we will ever understand. I want to thank them for making it so evident that I am a great choice. It's that kind of response that let's you know something's wrong with our culture and we all need to work together to change it. Anyone who has ever been bullied or felt bad about yourself I am out there fighting for you, for us. And I want you to fight for yourself too! We need to laugh at the haters and sympathize with them. They can scream as loud as they want. We can't hear them because we are getting shit done. I am proud to lead by example. "I say if I'm beautiful, I say if I'm strong. You will not determine my story. I will."
The physical proportions of Barbie have long been considered unrealistic. If the original doll were an actual person, she would be 6 feet tall and weigh only 100 pounds. Her waist would be 19 inches and her bust would be 39 inches. A new doll, with more realistic bodies in three different shapes — curvy, petite and tall — was released in 2016. 
Schumer, a notoriously outspoken comedian, has said more than once she is happy with her body. When she posted a photo of herself in a bathing suit on Instagram, she captioned it:
 "I meant to write 'good morning trolls!' I hope you find some joy in your lives today in a human interaction and not just in writing unkind things to a stranger you've never met who triggers something in you that makes you feel powerless and alone. This is how I look. I feel happy. I think I look strong and healthy and also like miss trunchbull from Matilda. Kisses!" 
Schumer also poked fun at beauty standards on Inside Amy Schumer, in the music video "Girl, You Don't Need Makeup." 
The movie will follow Barbie's expulsion from Barbieland, followed by an adventure in the real world that leads to a realization that beauty comes from the inside. 
Barbie's journey to the big screen has been a lengthy one. The film, which will mark Mattel's debut movie outing, originally featured a script written by Jenny Bicks. Diablo Cody was added to the team, but was then replaced by Hilary Winston. Schumer intends to contribute rewrites to the script with her sister, Kim Caramele. 
Barbie is slated for release May 12, 2017.