'Fifty Shades Darker' trailer gives closer look at villains Jack, Leila and Mrs. Robinson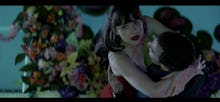 If the last Fifty Shades Darker trailer didn't leave you hot and heavy, the second sure will — if the latest trailer is any indication.
In Fifty Shades of Grey, we last left Anastasia Steele (Dakota Johnson) and Christian Grey (Jamie Dornan) on the rocks. In an attempt to get Anastasia back in his life, Christian invites her to dinner. And suddenly, they're happily back together. 
But, of course, this is a romance story and nothing is good for too long. 
Paired with the requisite steamy makeout sessions and risqué dinner dates, the trailer introduces new faces to the movie, among them Jack Hyde (Eric Johnson), Leila Williams (Bella Heathcote) and Elena Lincoln aka Mrs. Robinson (Kim Basinger).
All three characters are peripheral players in Anastasia and Christian's lives who act as self-interested wrenches in the machinations of the torrid affair. Jack is Anastasia's boss, motivated by his attraction to her and his jealousy of her relationship with Christian. Leila is a former submissive of Christian who develops a dark obsession with Anastasia. Elena is the older woman who began a relationship with Christian when he was a teenager and taught him everything he knows about BDSM.
Directed by James Foley, the second film to E.L James' best-selling trilogy hits theaters in time for Valentine's Day, on Feb. 10, 2017. 
Watch the Fifty Shades Darker trailer below: