The only latke recipe you need this Hanukkah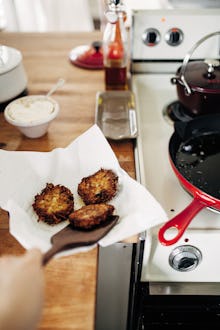 No one does latkes like food blogger and recent cookbook author Molly Yeh. 
Molly Yeh's family celebrated Hanukkah with more chocolate gelt than latkes, but she experienced a "latke renaissance" in college, after tasting her ex-boyfriend's dad's rendition of the fried Hanukkah treat. "They were thick like burger patties and guarded by a golden brown shell," she says in her new cookbook, Molly on the Range. "I had never had anything like them. I could have overdosed right then and there." 
Since Yeh's latke revival, she's used a recipe inspired by that one, but using a variety of toppings beyond the traditional sour cream and applesauce. Poached eggs? Furikake? Scallions and kimchi mixed into the batter and frying the fusion creation with toasted sesame oil? Check, check, check!
Yeh's latke recipe is the one you'll need this Hanukkah — you can dress them up for a week of spectacular treats. 
"The rule is that at least one latke during Hanukkah has to be downed with the classic sour cream and applesauce, but there are eight whole days of this holiday, so go wild with your latkes," Yeh writes. 
Molly Yeh's latkes
Makes 20 latkes
Ingredients:
2½ pounds russet potatoes, peeled
Using a food processor or mandoline, shred the potatoes and onions. Toss them with the salt and transfer to a cheesecloth. Use your hands to squeeze out as much liquid as possible.
In a large bowl, whisk together the eggs, lemon juice, and a few turns of black pepper and add the potato mixture. Stir to coat the potatoes evenly and then mix in the flour. 
In a large skillet, heat ¼ inch of oil over medium-high heat, until shimmering. Use an ice cream scoop (and pack the mixture in firmly) to add portions of the mixture to the oil, spacing them out so as not to crowd the pan. Press the scoops down with a spatula to get ½-inch-thick patties. Fry until golden brown on both sides, for 2 to 4 minutes per side. Transfer to a wire rack or paper towel and sprinkle with salt. Repeat with the remaining mixture, adding more oil to the pan as needed. Serve with sour cream and applesauce, or any additional desired toppings.
"A twice-fried latke is extra nice, so if you'd like to make these ahead of time, store them in the refrigerator and then reheat by frying them again," Yeh suggests.
And when you're ready for something sweet... 
Latke Sundaes with chocolate ice cream and cayenne sprinkles
Makes 10 servings
"Obviously this is inspired by the deeply sacred act of dipping french fries in a Wendy's Frosty," Yeh writes. "So this latke's pretty basic and a logical thing to do, considering how well hot, salty, crunchy potatoes and cold chocolate ice cream go together." 
Ingredients:
Latkes (but omit the onions and add 1 more pound potatoes)
Cayenne Sprinkles
Makes about 1 ounce
Line a baking sheet with parchment paper. In a small bowl, whisk together the egg white, powdered sugar, cayenne, salt, and food coloring (if using). The consistency should be slightly thicker than Elmer's glue. Add a bit of water or more sugar if it is too thick or thin. Transfer to a piping bag fitted with a very small tip and pipe lines onto the parchment paper. Let dry at room temperature for 4 hours or overnight. Scrape the lines off of the paper and chop into sprinkles.
Happy Hanukkah!