Standing Rock pipeline halt: Here's what happens next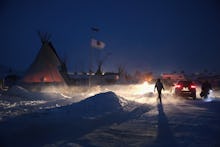 On Sunday, a historic victory was declared for the Standing Rock Sioux reservation when the U.S. Army Corps of Engineers declined the permit request for the Dakota Access pipeline.
Victory wasn't an easy feat. It took months of protesting by more than 10,000 people and members from over 200 Native American tribes. The 1,172-mile pipeline would run from North Dakota to Illinois, and protesters argued that it could possibly contaminate the water supply on sacred tribal lands.
But with the Army Corps' of Engineers decision to halt construction, what happens next?
Energy Transfer Partners, the oil company behind the pipeline deal, has been vocal in their public criticism of the Army Corps' decision to prevent construction of the Dakota Access pipeline. In a statement released on Sunday, ETP and Sunoco Logistics Partners accused the Obama administration of "abandoning the rule of law."
"The White House's directive today to the Corps for further delay is just the latest in a series of overt and transparent political actions by an administration which has abandoned the rule of law in favor of currying favor with a narrow and extreme political constituency," the statement read.
ETP CEO Kelly Warner also voiced opposition to the Army Corps decision, and like the company's official statement, also blamed the White House being "motivated purely by politics."
"This action is motivated purely by politics at the expense of a company that has done nothing but play by the rules it was given," Warren said, according to PBS Newshour. "To propose, as the Corps now does, to further delay this pipeline and to engage in what can only be described as a sham process sends a frightening message about the rule of law."
But Obama's administration ends in January. What could Trump do?
The future for Standing Rock is still uncertain with a Trump White House administration looming in January 2017. According to BBC, Trump has received campaign contributions from Warner and owns a stock in the big oil company. 
Deborah Sivas, a Stanford University professor of environmental law, told Mother Jones that with a stroke of a pen, Trump could allow ETP to continue with their pipeline construction plans. With a Republican-controlled Congress, it wouldn't be challenging to provide ETP with an exception under the Clean Water Act.
"Trump could sign off on it in week one," Sivas told Mother Jones. "All it takes is one sentence."
This is precisely why Standing Rock Tribe Chairman David Archambault II has taken the initiative to arrange a meeting with the president-elect to ensure he won't overturn the Army Corps' decision. No date has been set as of yet.
So what is next for the Army Corps of Engineers?
Now, the Army Corps of Engineers has to submit another assessment — called an Environmental Impact Statement — of the pipeline before any further action. The statement is made up of three phases — scoping, draft and final — and is open to public input before the statement becomes finalized. The entire assessment is conducted by the Army Corps. This process could take several months past Trump's inauguration, according to Andy Pearson, an environmental activist.
"The process usually takes several months, and can last for years depending on the project's complexity," Pearson wrote in a Facebook post. "A generic timeline would be about nine months, but we don't have any actual guidance yet on the timeline for this particular EIS."
As of right now, despite their uncertain future, environmental activists and native tribal members are celebrating a victory. 
"It's a good day to be Lakota," Isac Weston, a Lakota Sioux member, told BBC. "Everything my family has fought for. Everything our ancestors fought for. It truly showed itself in this four month time."