Donald Trump selects Scott Pruitt, Oklahoma attorney general, to head the EPA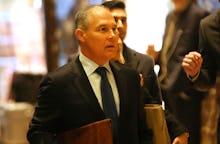 President-elect Donald Trump announced Wednesday he selected Oklahoma Attorney General Scott Pruitt to head the Environmental Protection Agency.
According to the New York Times, Pruitt is known for leading legal action against President Barack Obama's initiatives to combat climate change. In his home state of Oklahoma, he's continually fought environmental regulations taking aim at oil and coal companies. 
Pruitt's track record, of course, aligns with Trump's own views on climate change and the role humans play in phenomenon like warming global temperatures and rising tides. Though in a November interview with the Times, the president-elect said he had an "open mind" about climate change, he also made sure to note that there are "a lot of smart people" who disagree that it's true, and "you can make lots of cases for different views." What's more, in his plan for his first 100 days in office, Trump promised to bring back jobs to fossil fuel industries.
In 2015, Pruitt made clear his goal to protect jobs in those industries when he came out in opposition to Obama's plan to cut pollution from power plants. In a press release at the time, later reported on by Mother Jones, Pruitt said, "The Clean Power Plan is an unlawful attempt to expand federal bureaucrats' authority over states' energy economies in order to shutter coal-fired power plants and eventually other sources of fossil fuel-generated electricity."
That Pruitt, an ally of fossil fuel industries, has become a member of Trump's cabinet — and, of course, head of the highest agency responsible for enforcing environmental protections — could embolden Trump to take more drastic action against the policies Obama put in place to counteract climate change.
The most pressing of these measures is the United States' involvement in the Paris agreement, a global action plan to reduce carbon emissions. If Trump were to withdraw from the agreement, the results would likely be disastrous — even if every country stayed on track, the global temperature is still slated to rise 4.9 degrees Fahrenheit by 2100, according to a recent IEA report. 
The report lists multiple possible scenarios from best to worst. However, as Mic previously reported, whatever the case, Trump withdrawing the U.S. from the agreement would surely deal a fatal blow to the global outlook for climate change.
"[Withdrawing] could disincentivize the world's other biggest carbon emitters — such as China and India — to stick to their promises," reads Mic's November report. "And even if those countries followed through on their pledges, the collective emissions target is unlikely to be achievable without the United States."