Ryan Adams 'Prisoner' release date: What we know about the artist's hairmetal odyssey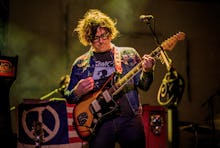 Ryan Adams has long been one of the most difficult songwriters to isolate to a single genre or style. Every time it seems safe to pin Adams down as the 21st century's answer to an aging Springsteen or yet another Coehn disciple, he pulls out something to completely unmake that assumption. He's experimented in black metal, alternative country, Taylor Swift-style pop and plenty more — and for his latest trick, he's bringing back hair metal.
The singer-songwriter shared the first single from his latest project Prisoner Tuesday via Instagram. He had previously described its influences as a combination of AC/DC, Bruce Springsteen, Bruce Hornsby and Electric Light Orchestra — the track lives up to the characterization. It features the dramatic organ backdrop used fondly by E.L.O. and the hard power-chord worship of AC/DC. The rest of the album's sound remains a mystery, but Adams has talked at some length about his inspirations and his creative process. Here's everything fans should expect from the coming project.
Ryan Adams' Prisoner was partially inspired by his messy public divorce with Mandy Moore.
Adams and his former wife Mandy Moore finalized their divorce earlier this June, according to tabloid reports. In an interview with the Japan Times, Adams described it as "a humiliating and just a fucking horrible thing to go through." This is the environment in which he started to write this record. 
"To be me and to go through that the way that I did was destructive on a level that I can't explain," he said. "So a lot of extra work went into keeping my chin up and remembering what I did and what I loved about who I was."
He penned the songs on Prisoner as a return to his rock 'n' roll roots, adding, "One of the main things I had to do was go, ' know why I'm using (the guitar). I'm using this in the same way I was at 17.' It makes noise and it feels right, and it's a vehicle for me to transcend who I am and go some place."
His work on his Taylor Swift 1989 cover album helped him refine his new style.
In that same interview, Adams admitted that working on his Taylor Swift cover album, released in September 2015, was creatively invigorating. Coming out of those sessions in which he translated Taylor Swift's chipper break-up tunes into bleary Smiths-esque folk, he wrote as many as 80 additional songs.
Doing so, he was able to, in his words, "write out the bullshit so I could get back to myself and say, 'Cool. This is what is real, and this is what doesn't need to be in there.'" 
He doesn't look back at the Taylor Swift sessions themselves with the same fondness. In October, Adams promised on Twitter that he's "not gonna cover an album again," noting, "1,000 jabs later, what we made for fun has been made to be something else." 
Prisoner may help to heal those wounds in some way, and help him get back to the music that feels personal and meaningful. Currently, his band can play Prisoner front-to-back live, which suggests a minimal amount of overdubs or other studio magic. It'll be all-encompassing '80s power rock in sound, name and ethic.
Adams is working with some classic rock legends to bring the songs to life.
To make sure his sound is comprehensive and honors the traditions he's looking to extend, Adams has tapped some industry legends. One of the biggest names is Don Was, a producer for the Rolling Stones, Bonnie Raitt, the Beach Boys and Willie Nelson. Was helped guide Adams throughout his studio process, like the "Gandalf" the project needed, as Adams characterized the legendary producer for Entertainment Weekly.
Ryan Adams says Prisoner will be asking "cool, big questions" in its lyrics.
In that same interview with Entertainment Weekly, Adams revealed that he's looking for the record to be a largely personal affair.
"I'm taking all the cool, big questions I'm asking on this record, then flipping it over, and then flipping it back to Side A and you still have more questions," he said. "I'm a relatively convoluted soul creatively. I don't think there's anything wrong with that." 
The challenge was trying to distill it all down and keep it brief, comparing the process as being "like exercise."
"I think the challenge for me — the Everest peak, for me — is to tell this story in 11 songs, to tell this part of my life in 11 songs," he said. "How do I make a real distinct record where anybody listens to it and says, 'That's the truth from beginning to end.' So it's like exercise. It sucks in the beginning. But then you get into it."
Fans will have to wait until Feb. 17, 2017, to see if his descriptions and characterizations hold water.