Election 2020: 5 Democrats who are already making moves for their party's nomination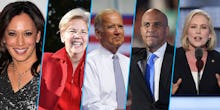 With emotions still raw just weeks after one of the longest and nastiest presidential campaigns in recent memory, few people are ready to think about the 2020 race for the presidency.
Except Joe Biden.
The vice president kicked off an early round of speculation about who the vanquished Democratic Party will put forward for the 2020 race, half-jokingly telling reporters on Capitol Hill on Monday that "I am going to run in 2020 ... for president."
Joking or not, Biden's brief foray into the still-far-off Democratic primary conversation raises the question of how other potential Democratic candidates are positioning themselves to mount a bid in four years.
There are, of course, two major caveats to divining the intentions of any potential candidates for an election that's still years away.
First, it's impossible to know what the political landscape will look like when the 2020 campaign is in full swing. Much will depend on the success or failure of soon-to-be President Donald Trump and the actions of the Republican-controlled Congress.
Secondly, there is a good chance the eventual 2020 Democratic nominee has yet to emerge on the national stage. Few could have predicted in 2004 that then-newly-elected Sen. Barack Obama would capture the nomination in 2008. Likewise, in the aftermath of the 2012 race, the odds that Trump would even run for president, let alone win, were virtually zero.
That being said, it's possible to suss out a few Democrats who will likely be racking up rewards points at the Des Moines Marriott in a few years' time. They include some familiar faces, and several who could fly under the radar.
Sen. Elizabeth Warren
The senior senator from Massachusetts is well-known as a hero of the left, and was one of Hillary Clinton's most effective surrogates in 2016. Warren's national profile makes her well-positioned to make a strong run for the Democratic primary in three years' time.
Warren's progressive bona fides give her the standing to argue forcefully against the Trump administration, and her focus on economic issues and income inequality echo the message Sen. Bernie Sanders employed in his quest for the 2016 nomination. She successfully straddled the divide between the Sanders wing of the party and the more traditional Democratic coalition Clinton assembled during the primaries, withholding her endorsement of Clinton until after the final contest.
Warren, never one to shy away from a fight, is gearing up to lead the Democrats' charge against Trump's agenda in the Senate. From her perch in the Democratic leadership and on several key committees, Warren's role as Trump's chief antagonist means she's likely to be among the top-tier of Democratic candidates once the 2020 campaign begins in earnest.
Joe Biden
He might have been joking when he told reporters he's already running, but the outgoing vice president is clearly wondering what could have been had he run this past cycle and leaving the door open to an unlikely bid in 2020.
Biden will turn 78 just after Election Day 2020 — far older than the 70-year-old Trump, who in November became the oldest person elected for a first term. But, joking to Stephen Colbert on Tuesday's Late Show, Biden quipped that "Trump is going to be 74. I'll be 77 and in better shape."
If he did run, it would be Biden's third attempt at the presidency, having tried and failed in 1988 and 2008. For the time being, he plans to focus his post-vice-presidential work on developing a cure for cancer, in memory of his son Beau, whose untimely death from brain cancer was the deciding factor in Biden's decision not to run for the 2016 nomination.
Sen. Cory Booker
Booker, the junior senator from New Jersey, is frequently mentioned as one of the Democratic Party's rising stars at a time when up-and-coming talent is hard to find.
The 47-year-old former mayor of Newark, New Jersey, Booker has been in the Senate since 2013. He has focused his legislative work on bipartisan efforts to overhaul the criminal justice system, becoming an outspoken advocate for fairer sentencing laws and reducing the prison population. Booker was on the shortlist to be Clinton's running mate, and is well-liked by his colleagues in the Senate.
If Booker decides to throw his hat in the ring in 2020, expect him to be an early frontrunner.
Sen. Kirsten Gillibrand
The junior senator from New York has been in Washington since 2007, and has emerged as one of the party's leading voices on anti-gun violence measures and women's rights issues. A close ally of Clinton, Gillibrand was selected to fill Clinton's Senate seat after Obama tapped Clinton to be his secretary of state.
Gillibrand, 49, enjoys the support of the deep-pocketed New York Democratic donor network. The New York Post reported in November that Gillibrand was already reaching out to donors about a possible 2020 bid, "personally making calls to some of Clinton's biggest backers" to assess her chances next cycle.
Senator-elect Kamala Harris
The newly elected senator from California hasn't even been sworn in yet, but Democrats are already wondering whether the 52-year-old Harris might be able to pull off an Obama-esque longshot bid in 2020.
Harris made her name as the attorney general of California, a job she'll give up when she heads to Washington. Her overwhelmingly Democratic home state would provide a powerful platform for launching a presidential bid, giving her the ability to assemble a campaign war chest which could potentially dwarf contenders from smaller states.
As the first black and first Indian-American senator elected from California, Harris has already made history once. If a former reality show star with no governmental experience can win, why not her?